Description
Create your own design railing made of stainless steel: System Sont-10
Stahldeko stainless steel accessories for kitchen equipment and kitchen design: modern railing system Sont 10, as a classic railing with the tube Ø 10mm, completely in stainless steel with a satin finish. Consists of the tube Ø 10mm, open support beams Sont 10, optionally with or without base plate. The intermediate supports are supplied from a length of 100 cm. To close the open pipe ends, you can use the cylinder end pieces or the impact caps. Of course, you can also select the railing tube without end pieces, for example to mount the joints or the wall brackets on the tube ends. The material is solid stainless steel DIN WNR 1.4301 with a satin finish. For hanging kitchen utensils, we offer hooks made of nickel-plated steel, stainless steel hooks made of flat steel or railing hooks as S-hooks made of stainless steel. Mounting material included for simple 1-point attachment. With the help of additional railing brackets, joints and wall bearings, it can be expanded to form a U-shaped and L-shaped kitchen railing.
*Custom-made products on request, apart from straight railings, we also bend all our railings into any other shape, made absolutely according to your needs and space situation. Just send us a sketch and you will receive an offer for your individual railing rod.
---
Railing system for the Sont-10 kitchen: Measure, calculate and order the length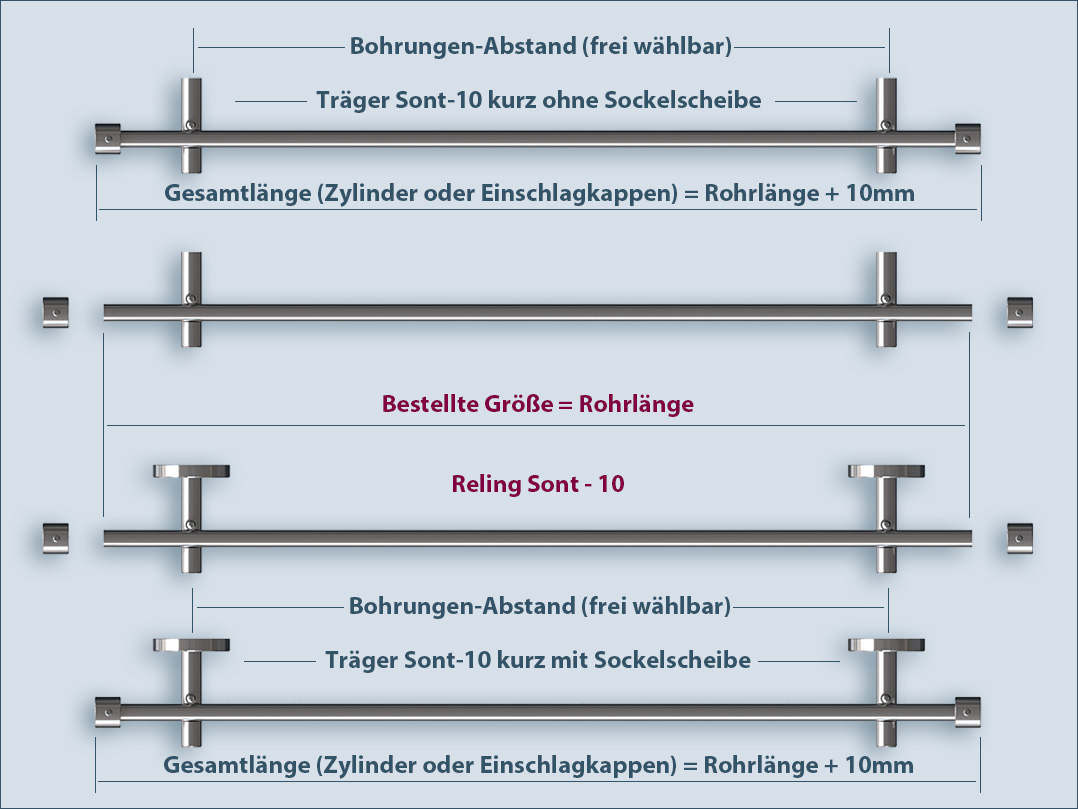 Ordered railing size is the pure tube length. Total length is usually larger, the allowance for the end pieces is added to the tube length. Please refer to the drawing for the dimensions
*If desired, please enter the number in cm in the field "shorten by:". then we will cut the tube to the right length for you. For example: If you need a tube of exactly 183cm, then under "Length" please select - 200cm, and in the field "Shorten by:" enter the number "17 cm". Sections are not sent.
* Parcel service shipping:
The tubes up to 260cm are always delivered in one piece.
The tube is divided in the middle from a length of 260cm.
A connection adapter is always included. A holder is to be attached to the connection point.
* Freight forwarding:
The tubes longer than 260cm and up to 400cm are delivered in one piece.
*Rail longer than 400cm (also in one piece) - price on request.
---
Holder for the railing Sont-10 1-track short: Fastening and assembly instructions for different versions.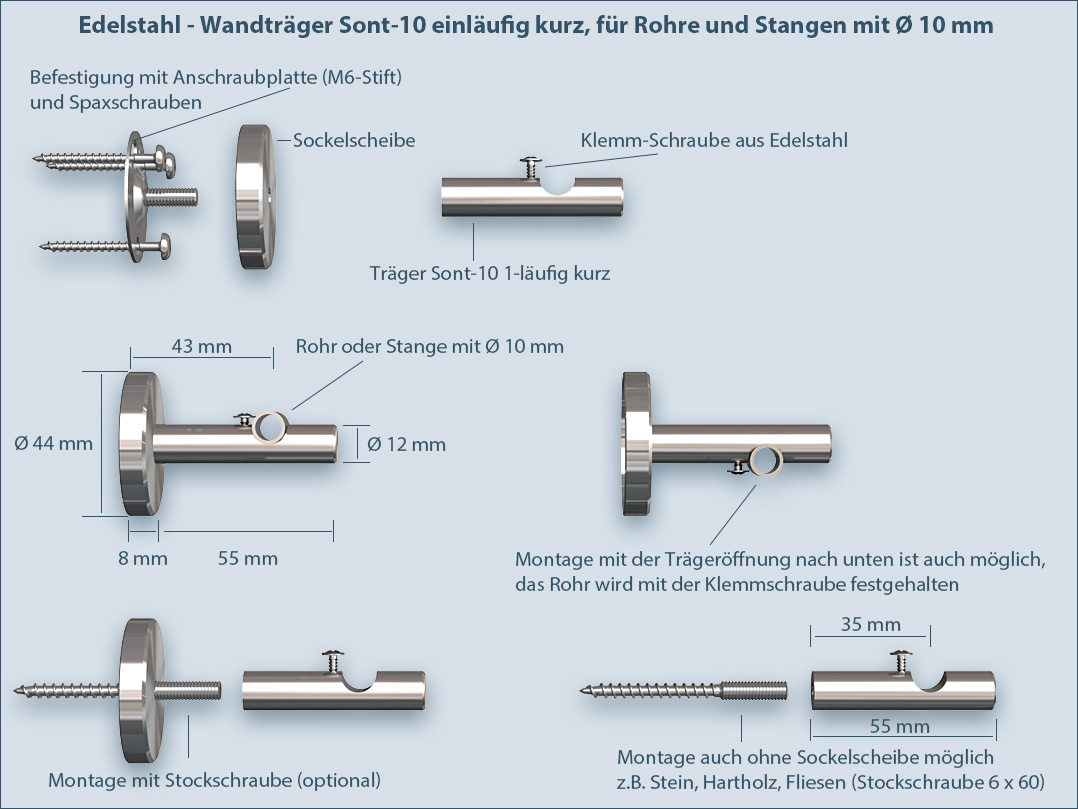 With this bracket system you can choose the following versions: with or without a base plate, and place the railing supports on the rod absolutely freely.
You can attach these railing brackets horizontally (wall or front edge of worktop) or vertically (cupboard, shelf bottom or top edge of worktop). First mount the hanger bolt (incl. dowels for wall mounting) on the wall. Then slide on the base washer (if selected) and screw the holder onto the hanger bolt grub screw. Then insert the tube into the holder openings and fix it with the clamping screws. You can also place the Sont railing carrier with the openings facing downwards; the railing rod is also held firmly with the clamping screws in this position.
The Sont carrier has an M6 thread in the carrier foot, so alternative attachment with a metric screw or mounting plate is possible.
---
Order tube end pieces for the railing system Sont-10.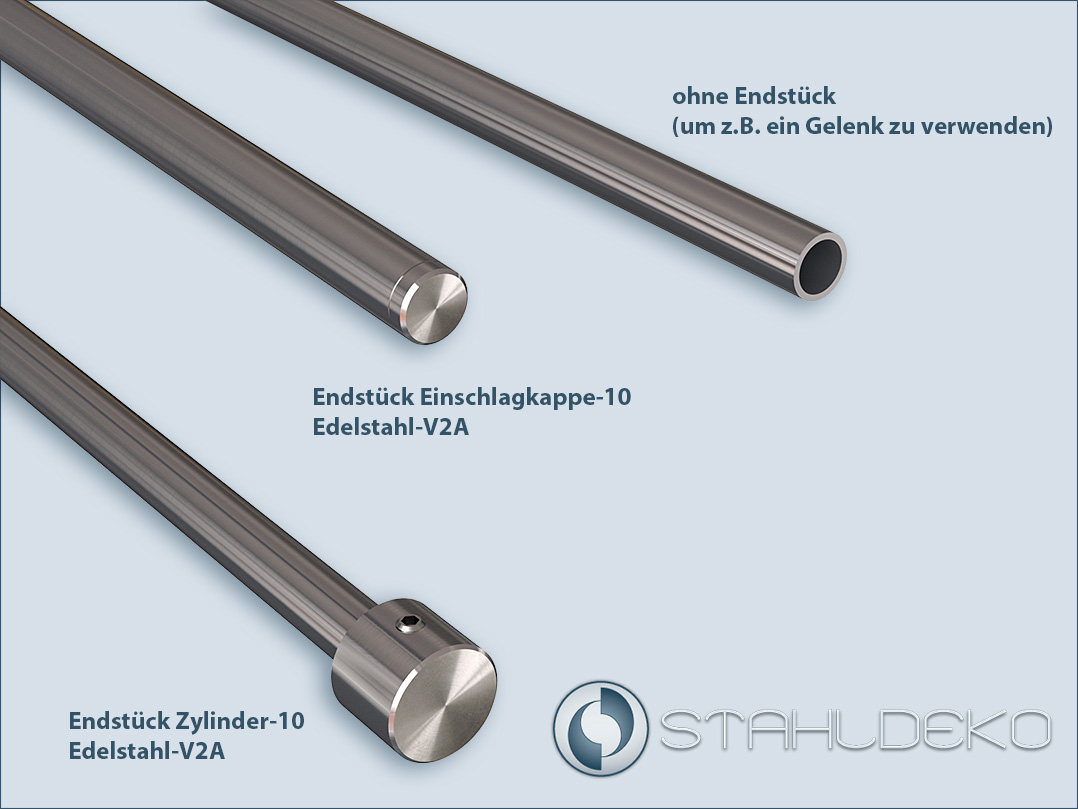 In order to close the pipe ends, we offer impact caps or cylinder end pieces. Simply select the desired end piece in the corresponding field. Of course, you can also order the version without end pieces, for example to use a pipe joint or a wall bracket at this point.
---
Connect tube ends with joints to create an L-shape or U-shape railing.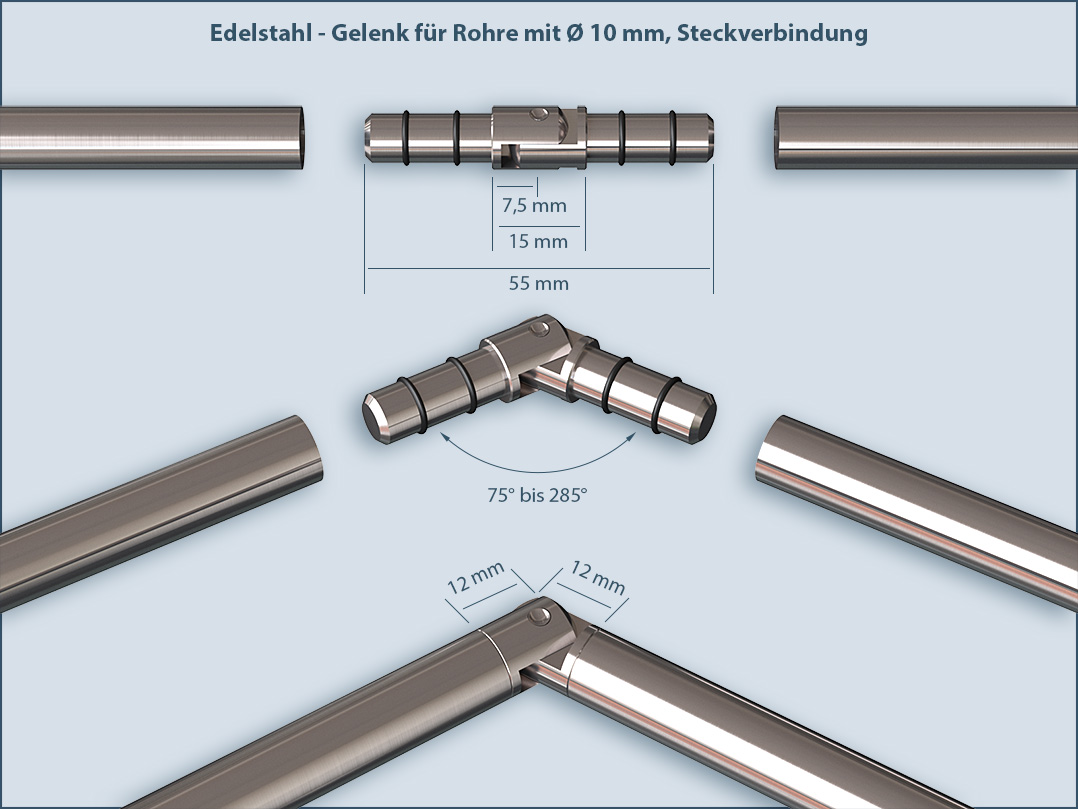 If you need an L-shape or U-shape or trapezoidal-shape railing for your kitchen area, then you can use our corner joint connectors for the 10mm diameter round tubes. These joints are inserted into the pipe ends instead of the end pieces, so you can easily achieve any angle from 75° to 285°.
To assemble an L-shaped railing, order: 1 railing with a tube open on one side and 1 piece end piece + 1 piece railing with a tube open on one side, 1 piece end piece and with 1 piece joint
To configure a U-shape or a 3-sided trapezoid railing, order: 2 pcs. railing with a tube open on one side and 1 pc. end piece + 1 pc. railing with a tube open on both sides without end pieces but with 2 pcs. joints
Need help configuring? Write to us or call us.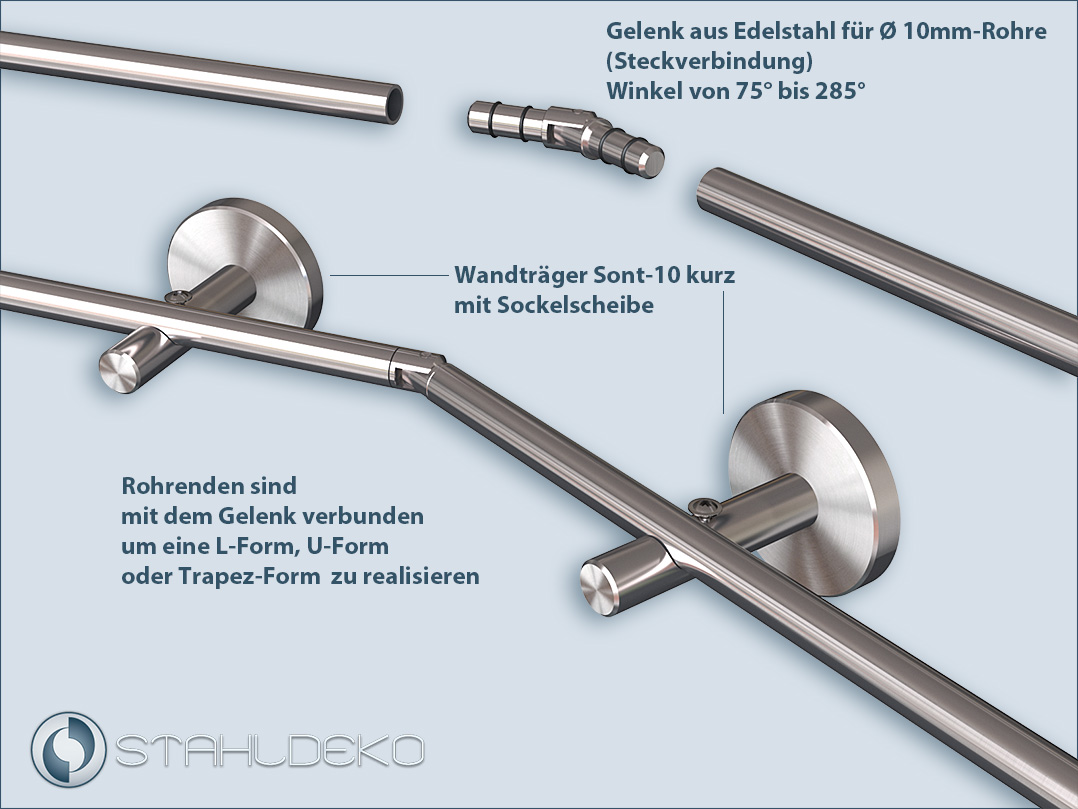 ---
Order hook made of steel, nickel-plated, for 10mm railing.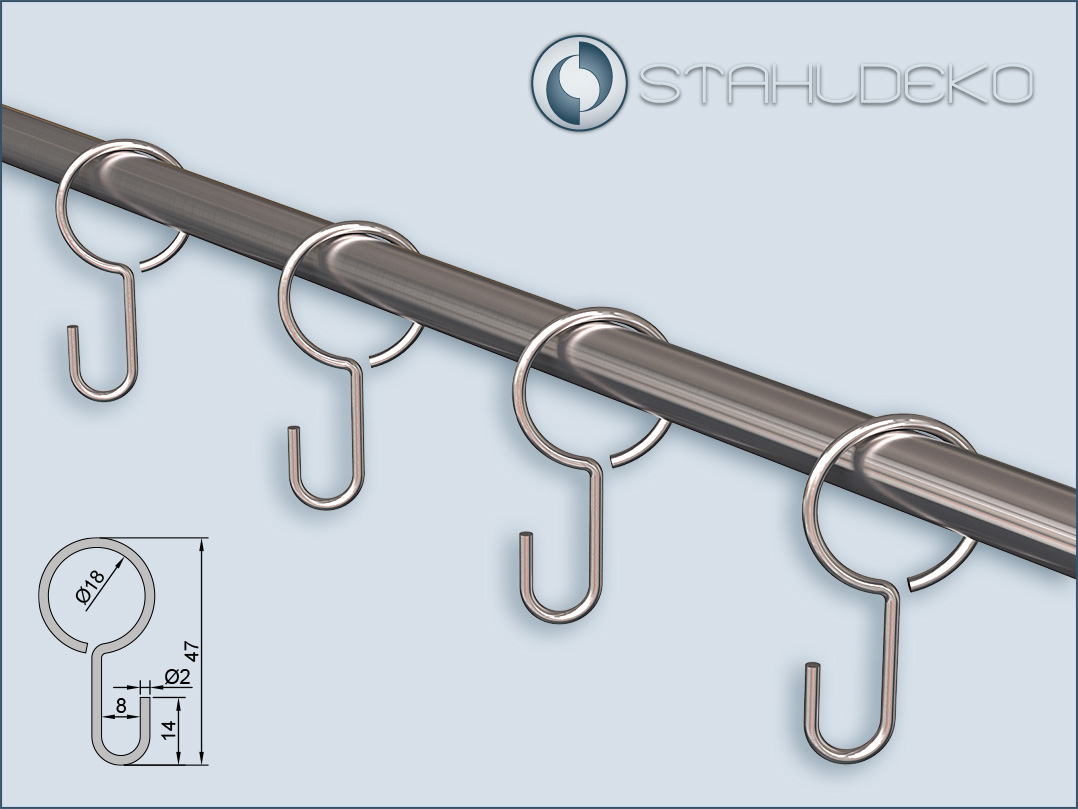 You can use our nickel-plated steel hooks to attach kitchen utensils to the Rail Post-10.
Please refer to the drawing for the dimensions.
---
S-hook for railing with 10mm diameter, material stainless steel.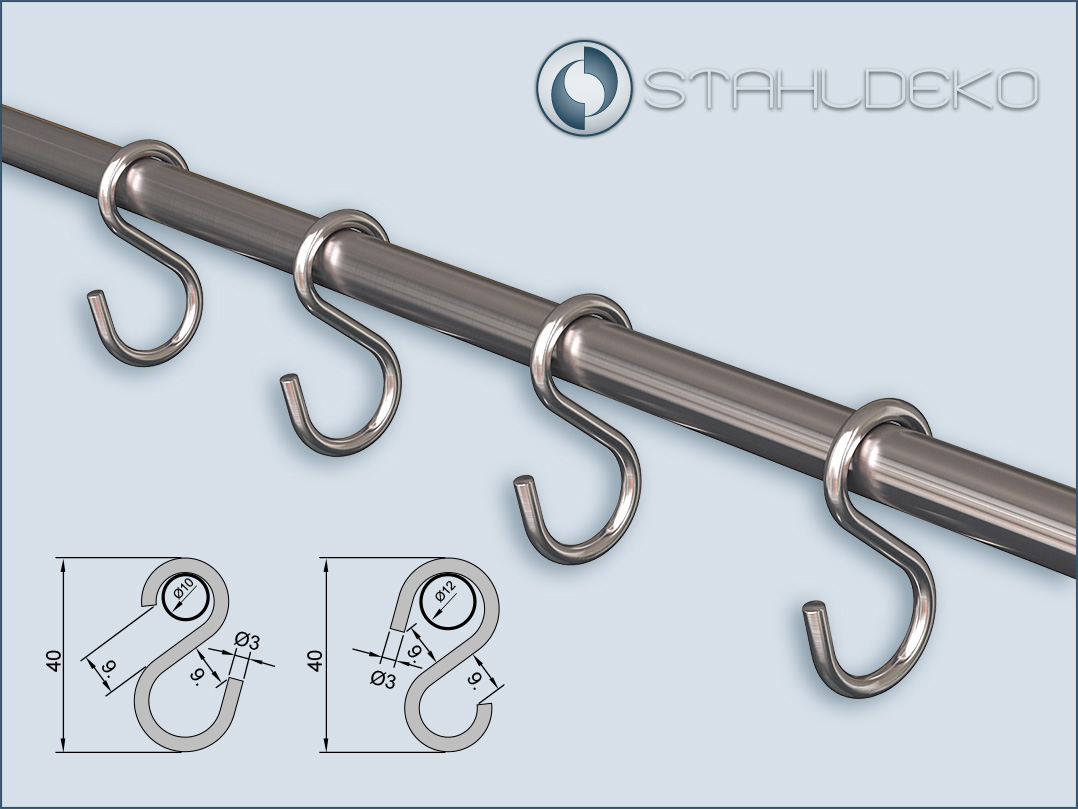 Hook S-shape made of V2A stainless steel, very stable and robust, bent from 3mm stainless steel wire, ends are punched. For indoor and outdoor use as a railing hook. Easy attachment and detachment to 10mm tube by "clamping system with 9mm opening"
Please refer to the drawing for the dimensions.
---
Stainless steel hook made of flat steel for railing with 10mm rod diameter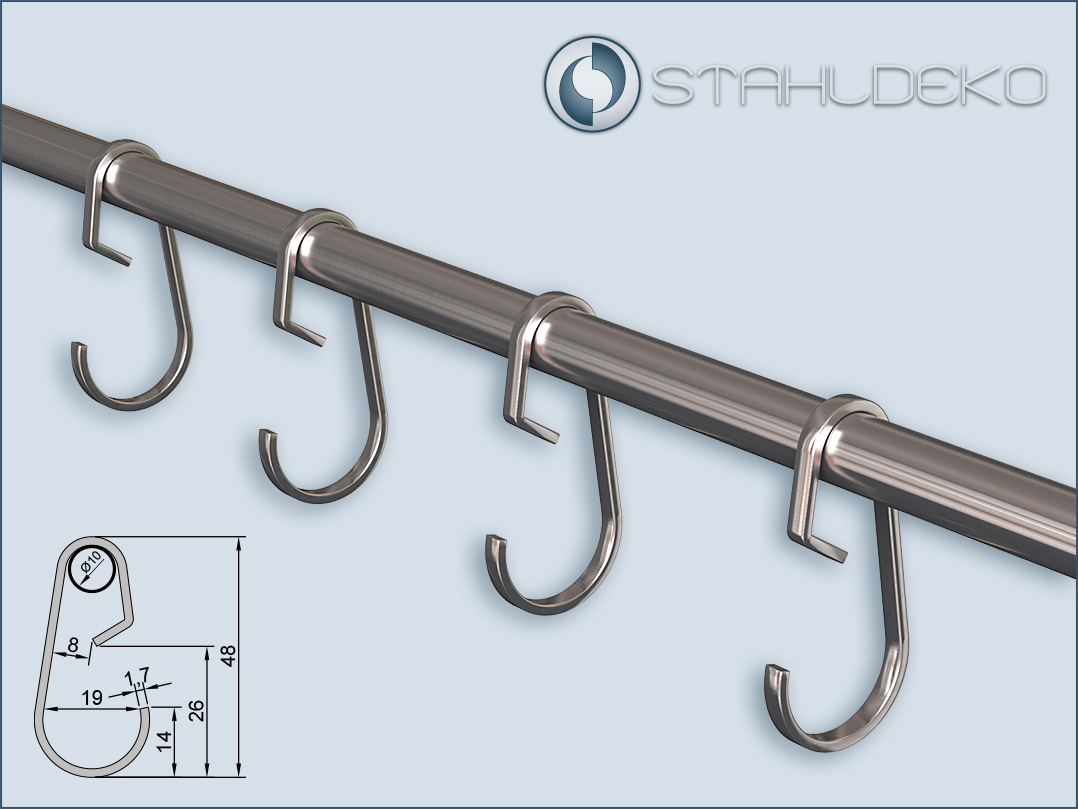 Absolutely stable hooks made of V2A stainless steel, bent from 1.7 x 3.2mm flat steel, ends are punched. For tubes and rods with Ø 10 mm. Also suitable for outdoor use. For use in the kitchen area as a railing hook.
Please refer to the drawing for the dimensions.
---
Examples of use and extensions: Design railing Sont 10, with stainless steel rod Ø 10mm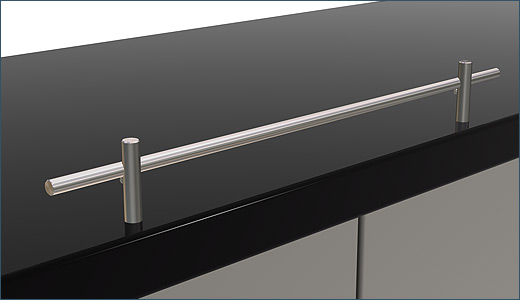 Railing Sont10 as a delimitation for the worktop in the kitchen, for example to secure the hob.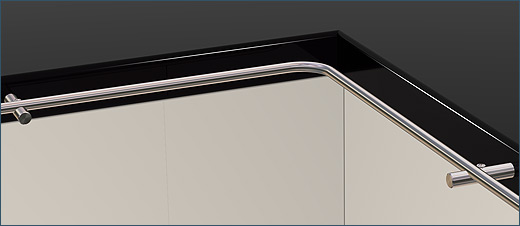 Here the railing is mounted on the front edge of the kitchen worktop and bent as an inside corner. Ideal solution as a kitchen towel rail. Simply hang towels and pot holders that you don't need at the moment on the rail, they stay close at hand and are always at hand.





U-shape railing for outside corner Sont10. Closing is also possible with wall brackets. The inner corner solution is also implemented according to the same principle.





Inside corner oriel railing for kitchen furnishings and kitchen design, railing systems in trapezoidal form: we manufacture your railing to fit any wall or worktop angle, whether outside corner or inside corner.





We will also be able to offer you a suitable Religsystem for curved walls in the kitchen or round worktops.
---
Features
Designation*

Design railing Sont10, stainless steel V2A system Sont10 for kitchen design.

Material

V2A - stainless steel 18/10, DIN WNR 1.4301

rust-free, heat-resistant, impact-resistant

suitable for indoor and outdoor applications

extremely easy-care

Processing

High-precision processing with CNC automatic lathes

Surface

Polished surface

very good optical uniformity

Grain size 2500

Shiny brushed appearance

Compatible

for kitchen, for kitchen furnishings and equipment

Dimensions

Wall distance without base plate 35mm, with base plate 43mm. Base plate Ø48mm

Support System

Stainless steel rod bracket Sont10, open

Is screwed onto a base plate

for a railing length of 100cm, an intermediate bracket is supplied

Mounting

Drill Holes and Screws Hidden with Base Plate

1-Point Mounting with Stud Bolt

Lengths

60, 80, 100, 120, 140, 160, 180, 200cm or custom size

Accessories

Reling brackets, reling tubes, reling rods, reling hooks

Extras

we also custom make railing solutions for you, straight or bent to size