Stainless steel wardrobes for hallway and corridor.A wardrobe is essential for every household. Whether a jacket, a coat or other everyday items like handbag or umbrella, always need space in the hallway or corridor. In this product group, you will find wardrobe sets made of V2A stainless steel, for modern room design. Stahldeko offers wall wardrobes made from rods with Ø 10, 16, 20, and 28mm. We manufacture each wardrobe for wall mounting or ceiling mounting and with various carrier systems. Our wardrobe rods can be placed in various room areas. Whether corner, niche, or bay window, we can offer straight or curved clothes rods for every room part. The clothes can be hung with hangers or clothes hooks. On request, we can also offer custom-made products. Please send us a sketch by email or fax and you will immediately get an offer.
Application examples: Wardrobes for hallway and corridor
Quarter-circle wardrobes help to use any corner in any room efficiently. Our corner wardrobe, thanks to various sizes, fits perfectly in the hallway, bedroom or walk-in wardrobe and creates additional storage space.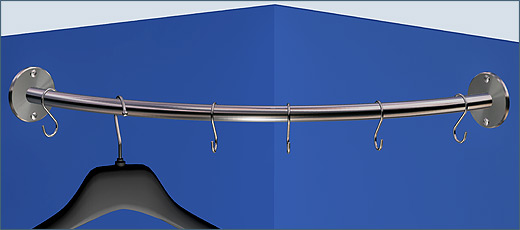 Classic wardrobe: straight wardrobe rods are suitable for mounting in a room niche or even in the wardrobe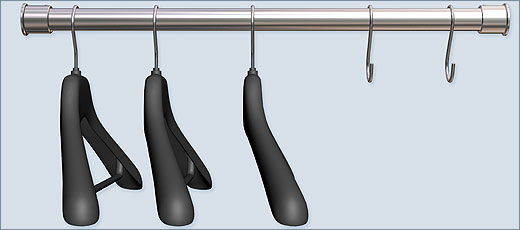 U-shaped curved wardrobes: Wall wardrobe Base-10 we supply in various standard sizes or manufacture to measure. Here with clothes hanger and wardrobe hooks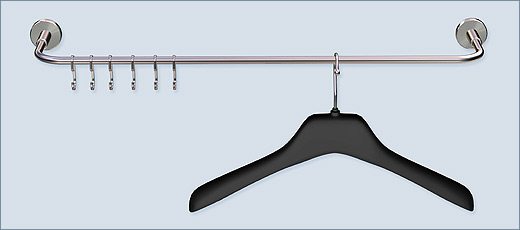 Round wardrobe: Wardrobe rod half-round curved, we can also deliver custom-made. The clothes can be hung with clothes hangers or clothes hooks