Description
Curtain rod, handrail, railing made entirely of stainless steel, System Sont-28, end pieces, rings, hooks of your choice.
Particularly stable rod system with the round tube made of stainless steel for wall mounting. With the round tube curtain rods, the curtains are attached to the rod with curtain rings or hooks or loops or eyelets. This version is the most used version for attaching curtains and blinds in window decoration.
Due to its very high stability, we also recommend the Sont-28 set for use as a handrail and railing, towel holder and towel rail as well as a clothes rail and cloakroom rail.
You order a complete curtain rod consisting of:
1 pc. tube Ø 28mm made of stainless steel, the stylish and silky matt look is absolutely suitable for our wall brackets and end pieces made of V2A stainless steel. Lengths of up to 600 cm in one piece are also possible on request.
2 pieces, 3 pieces or 5 pieces (depending on the ordered length) wall brackets Sont-28 with or without rosettes, the material is solid stainless steel DIN WNR 1.4301 with a satin finish, including fastening material.
2 end pieces (of your choice), the version with only one end piece or without end pieces is also possible.
Desired number of rings or stainless steel hooks, we recommend at least 10 curtain rings or hooks per 1 meter of curtain width.
*Custom-made products on request, except straight curtain rods, we also bend all our rods in any other shape, made absolutely according to your needs and space situation.
---
Order the correct set length.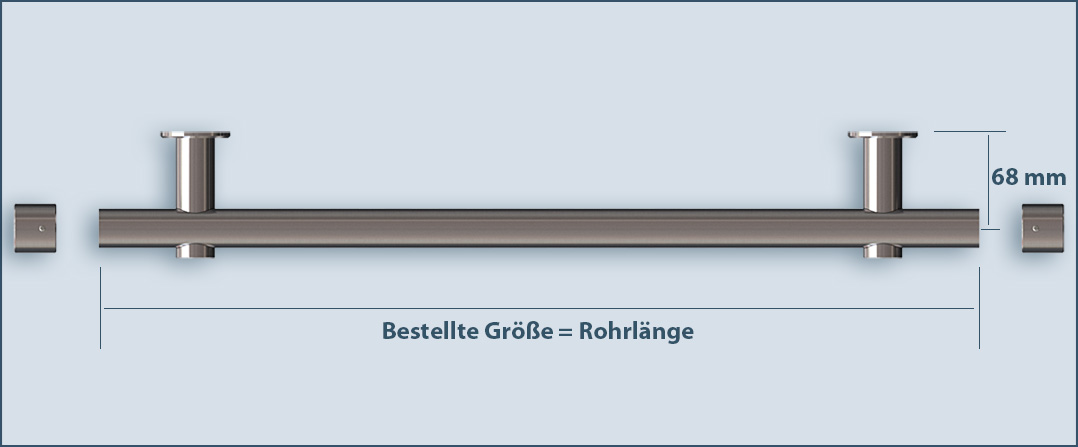 Ordered size is the tube length without end pieces.
*If desired, please enter the number in cm in the field "shorten by:". then we will cut the round tube to the right length for you. For example: If you need a stainless steel tube of exactly 254cm, then please select under "Length"-260cm and in the field "Shorten by:" enter the number "6 cm". Sections are not sent.
* Parcel service shipping:
The tubes up to 260cm are always delivered in one piece.
The pipe is divided as follows from a length of more than 260cm:
up to 520cm divided in the middle
from a length over 520cm 1/3 + 1/3 + 1/3 divided
A connection adapter is always included. A wall bracket is to be attached at the connection point.
* Freight forwarding:
The tubes longer than 260cm and up to 400cm are delivered in one piece.
The tubes longer than 520cm and up to 600cm are divided in the middle
* Curtain rods longer than 400cm and up to 600cm in one piece - price on request.
---
Rod holder Sont-28: mounting system for wall mounting.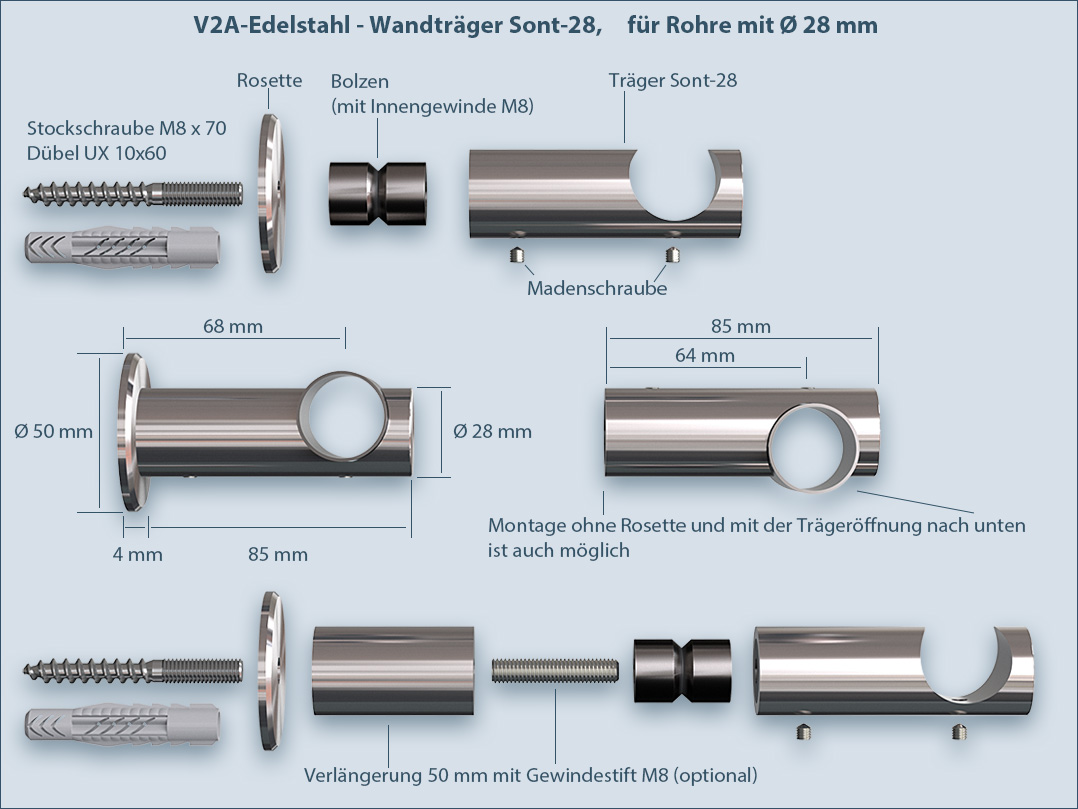 With this rod holder system, you can easily decorate the curtains on the floor, then attach the completely decorated rod to the wall. You can place the wall brackets on the curtain rod absolutely freely. First fasten the bolt with or without a rosette to the wall. You can screw on the bolt and the rosette with hanger bolts. Then slide the rod supports (along with the tube) onto the studs and tighten the support grub screws (not too tight). You can also place the Sont-28 rod holders with the openings facing downwards, the tube is also held absolutely tight with the grub screws in this position. Of course it is also possible to extend the stainless steel rod holder (optional). We also offer a 50mm extension made of stainless steel for the Sont-28 carrier system. Connect the extension and the carrier with a threaded pin.
---
Order desired stainless steel end pieces for curtain rod Sont-28.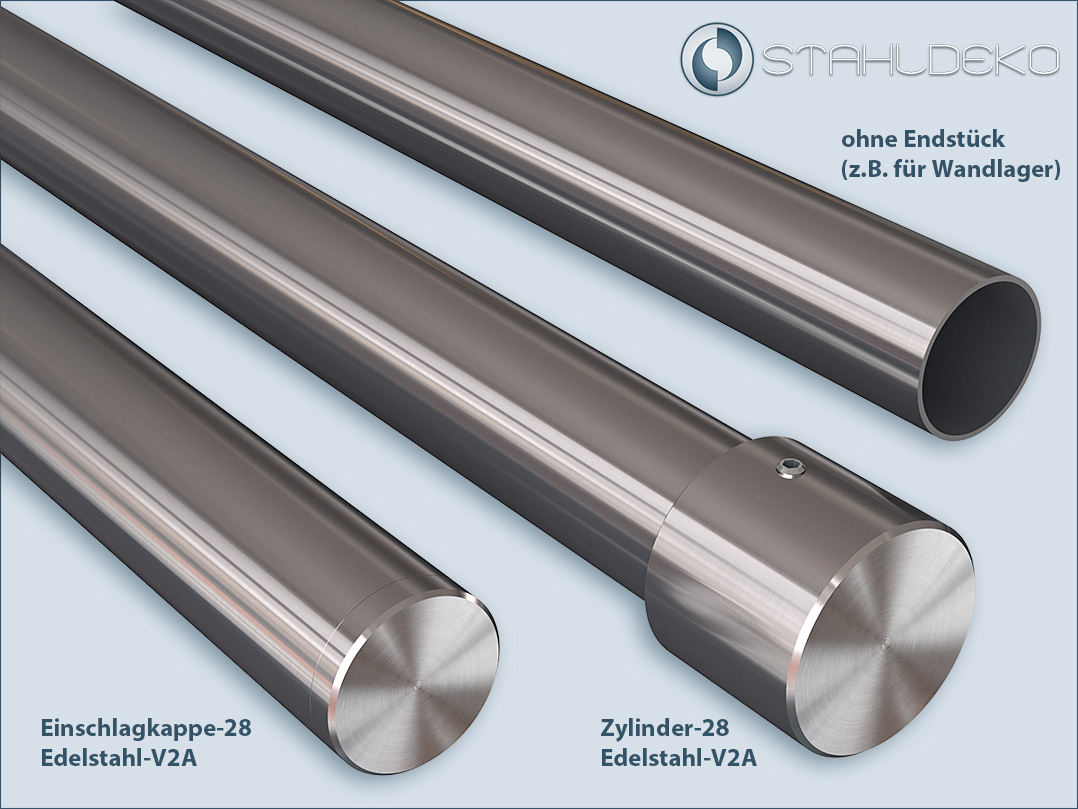 We have different end pieces for our 28mm stainless steel tubes. Simply select the desired end piece in the corresponding field. The picture shows our range of end pieces for stainless steel pipes with a diameter of 28mm. Of course, you can also order the version without end pieces, for example to use a wall bracket at this point.
---
Order curtain rings made of stainless steel for curtain rod Sont-28.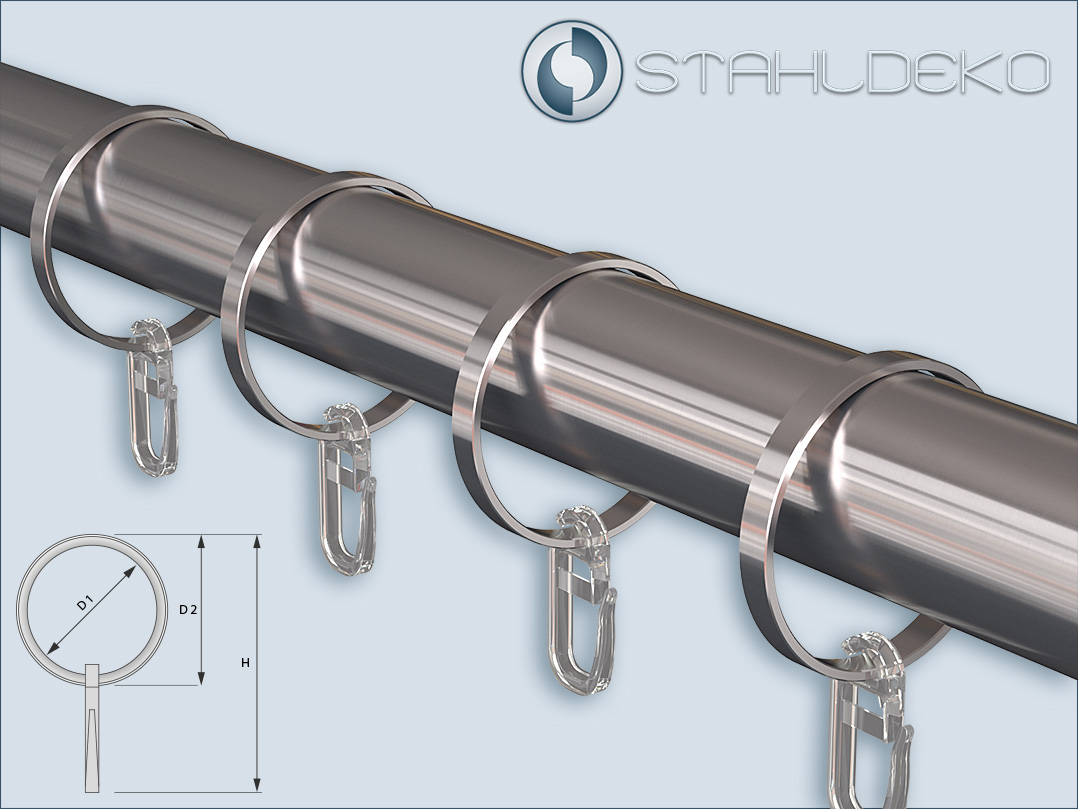 You can use our stainless steel rings to attach curtains to a curtain rod with a round tube. These curtain rings are made of stainless steel. All rings are supplied with clip-on hooks (folding hooks) made of plastic (transparent).
Please refer to the drawing for the dimensions:
D1 = 38mm
D2 = 42mm
H = 67mm
---
Hook S-shape as a curtain hook for our rods and tubes with a diameter of 28mm, material stainless steel.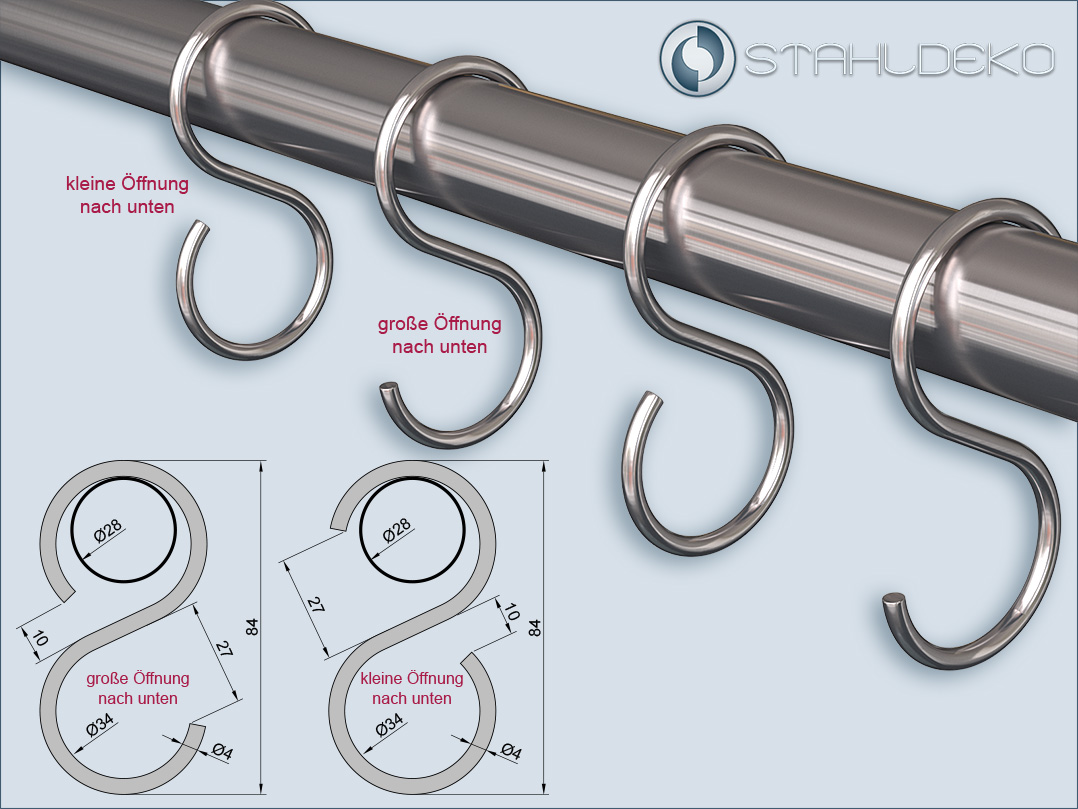 S-hook with an inner diameter of 34mm, therefore also suitable for tubes and rods with an outer diameter of up to 34mm as curtain and curtain hooks, hooks for shower curtains, hooks for kitchen rails, hooks for wardrobes, towel rails and towel hooks. Hook S-shape made of V2A stainless steel, absolutely stable and robust, bent from stainless steel wire with 4mm diameter, ends are punched. For indoor use as curtain hooks and curtain hooks, coat hooks and cloakroom hooks as well as railing hooks and towel hooks. Easy attachment and detachment to 28mm rods by "clamp system with 27mm opening".
Please refer to the drawing for the dimensions.
---
Exclusive curtain rods: custom-made stainless steel tubes and rods.
In addition to straight curtain rods, we also offer all of our sets in any other shape, bent and made to suit your needs and room situation. Whether square bay windows, round window fronts, curved walls and ceilings, skylights and sloping roofs, exclusive window and door frames - we offer you custom-made curtain rods for all of this. In the bathroom area, you can use our 28mm curved curtain rods as shower curtain rods, towel rails and handrail grab bars. In the changing area, it can be curved clothes rails and changing rails, and in the kitchen, a curved railing.
Simply email us your sketch or drawing and you will immediately receive an offer. Of course, all the necessary supports, wall brackets, ceiling suspensions and assembly materials are always included. Do you have anymore questions? Contact us!
---