Description
Stahldeko exclusive: bend stainless steel tubes and inner rails to measure

We manufacture custom-made curved curtain rods and curtain rods to meet your individual needs.
In addition to straight rods, we also offer all of our curtain sets in any other shape, bent and made absolutely according to your needs and room situation. Whether square bay windows, round window fronts, rounded walls and ceilings, skylights and sloping ceilings, exclusive window and door frames - we offer you tailor-made curved curtain rods with round tubes or inner profiles for all of this.
Possible applications:Curtain rods in the living area, wind protection and protection against the cold outside, room partitions and changing rooms in the sales rooms, privacy screens and cabins for vaccinations in the vaccination center or pharmacy.
Below are some form examples, please fill out the inquiry form and send it to us. You will immediately receive a complete and detailed offer.
If you need a different shape, simply send us your sketch or drawing as an upload file, by extra email, fax: 09104/8228399 or by post, you will immediately receive an offer. Of course, all the necessary brackets, wall brackets, ceiling brackets and assembly materials are always included.
Do you have anymore questions? Please call us.
Some standard forms of curved rods:
---
L-Form
1x curtain rod bent at 90°. Of course, also available as a double-barreled set. Possible attachment: on the wall, on the ceiling, also on a sloping roof.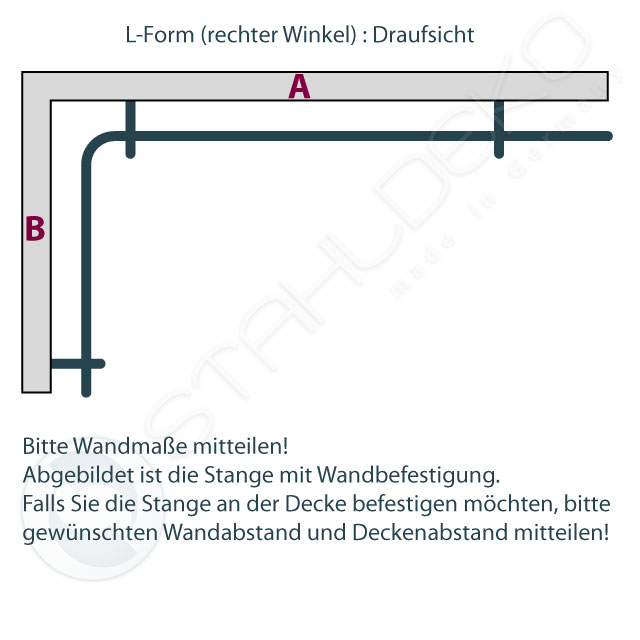 ---
U-Form
We can also bend each of our curtain rods into a U-shape. We can also manufacture and supply such rods for all double-barreled curtain sets. Also ceiling mounting or mounting on the slope.


---
Trapezoidal shape (5 sides)
If you want to equip a 5-sided bay window with curtains, we can bend a style set in this form. You can also order this as a 2-track set for wall or ceiling mounting.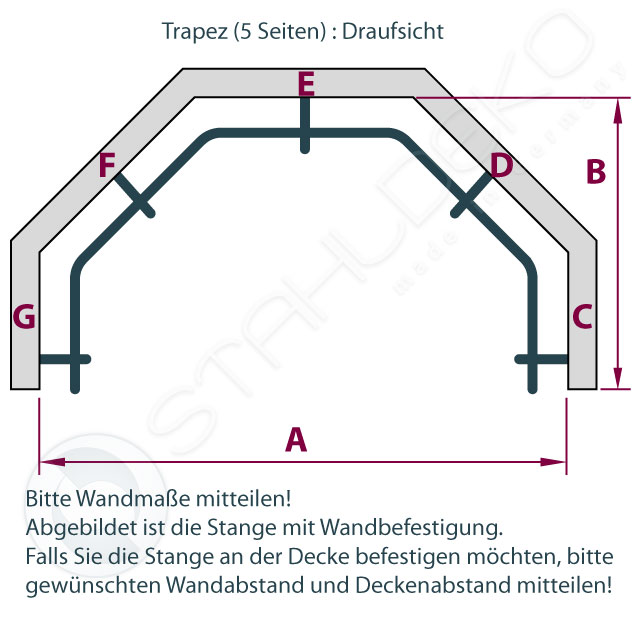 ---
trapezoidal shape (3 sides)
For a 3-sided bay window, we can bend curtain rails in this shape. Two-track production for wall mounting and ceiling mounting is also possible.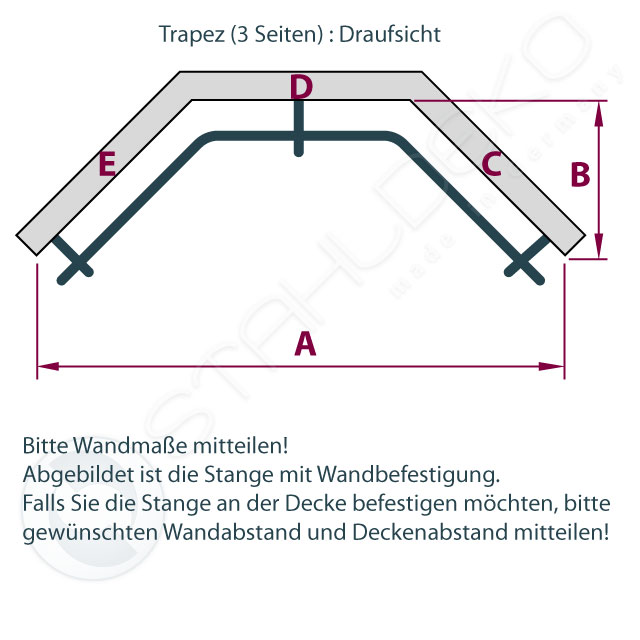 ---
Bow with straight extensions
Also known as a quadrant shape. You can order such a curtain rod for wall mounting or ceiling mounting. Of course, also available as a double-barreled set.


---
arc (circle segment)
Ideal solution for a round front bay window. We can bend our curtain rods in this shape. We manufacture such rods for mounting on the wall or ceiling, 1-track or 2-track.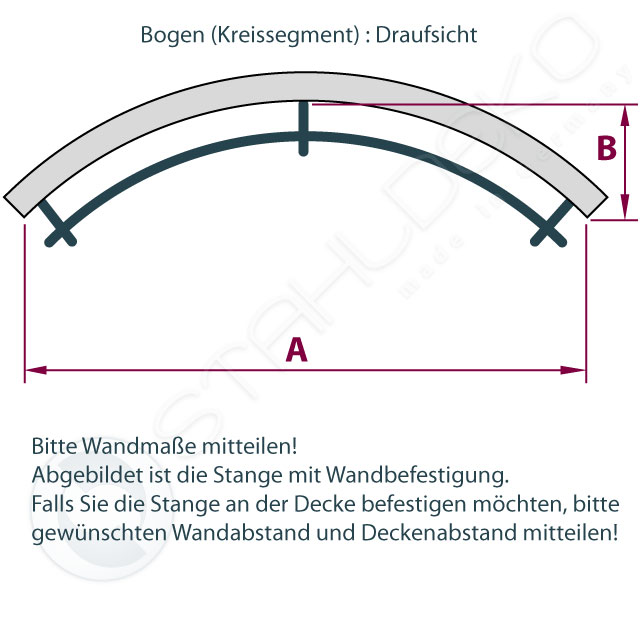 ---
Ring-Form (Vollkreis)
Curtain track curved as a ring is best to attach to the ceiling. We recommend realizing such closed forms as a full circle with inner running rods. In this case, an all-round trouble-free path of the curtain is guaranteed. Of course, we also have wall brackets and brackets for sloping ceilings.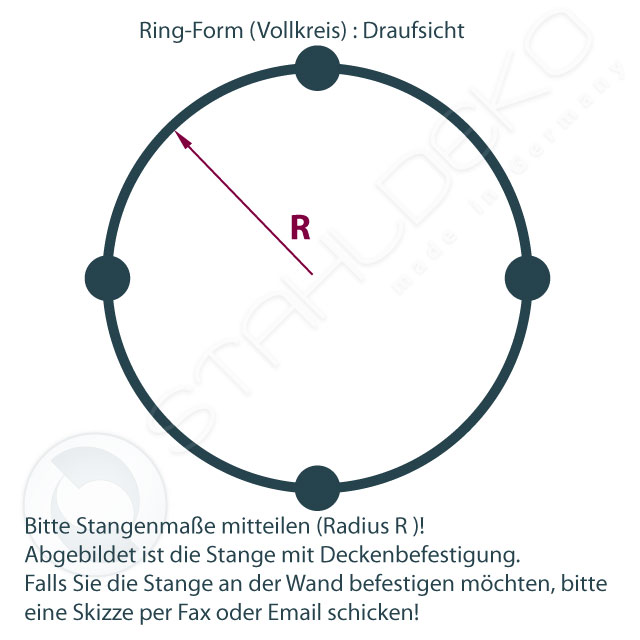 ---
rectangle (square)
Closed curtain rod is best to mount on the ceiling. Inner race profiles are best suited for the production of rods bent in this shape.


---
Angle shape (obtuse angle)
Style fittings curved with the desired angle (even acute angles). Of course, it can also be ordered as a 2-barrel set. Possible mounting: on the wall, on the ceiling, also on a sloping roof.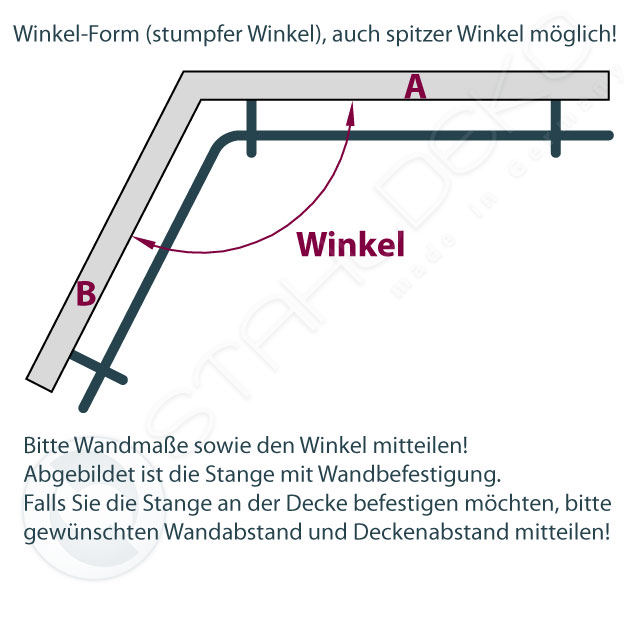 ---
Semicircle with straight extensions
We can also bend our curtain rods in this shape for your semicircular bay window. You can choose between wall mounting or ceiling mounting. We can also offer brackets for the sloping roof