Description
2-track curtain rod with Sont-20 inner track for wall mounting.
Classic 2-leg. Inner rail for wall mounting. An advantage of the sets with the inner track system is the possibility to move the curtain freely along the entire length of the rod. Thanks to the open construction, the carriers always keep the glider running free, thus guaranteeing that the curtain can travel without any problems all round.
You are ordering a complete inner track curtain rod consisting of:
2 pcs. Inner running profile Ø 20mm made of aluminium, the anodized surface in stainless steel look is absolutely suitable for our carriers and end pieces made of V2A stainless steel. Glider width 6mm, length from 100cm to 400cm. Lengths of up to 600cm (also in one piece) are also possible on request.
2 pcs. or 3 pcs. (depending on the length ordered) double-track wall bracket Sont-20 with base plate, material V2A stainless steel, including fastening material. If desired, you can also order the carrier extensions.
4 pcs. end pieces (at your choice for each barrel).
Desired number of curtain gliders, various glider systems of your choice. We recommend at least 10 pieces (per run) gliders per 1 meter curtain width.
*Custom-made products on request, apart from straight curtain rods, we also produce all our sets in any other shape, absolutely curved according to your needs and room situation.
Order correct length.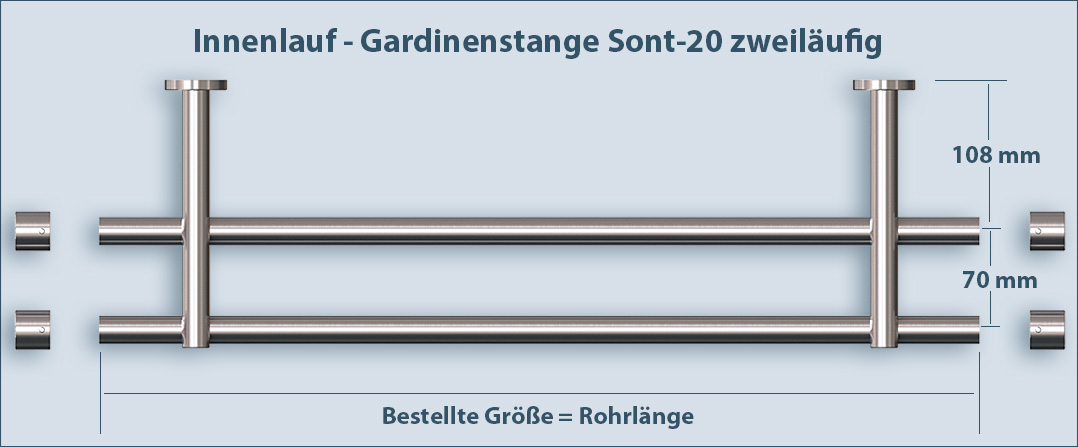 Ordered length is the bar length without end pieces.
*If desired, please enter the number in cm in the field "shorten by:". then we will cut the inner running profile to the right length for you. For example: if you need a rod of exactly 248cm, then under "tube length" please select -260cm, and in the field "cut by:" enter the number "12 cm". Profile sections are not sent.
* Parcel service shipping: The aluminum inner running profile is from a lengthover 260cm, divided in the middle. A connection adapter is included. A support is to be attached to the connection point.
* Freight forwarding: The aluminum inner running profile (up to 400cm) is delivered in one piece.
* Curtain rods 400-600cm (also in one piece) - price on request.
Fastening system for wall mounting Sont-20 2-track.
You can place the wall brackets on the curtain rod absolutely freely. First attach the base plate to the wall with bolts. You can either attach the base plate and bolts with a screw-on plate or screw them on directly with Spax screws. Then slide the carrier onto the stud and tighten the carrier grub screw (not too tight). Then insert the inner rail rods into the carrier openings and fix them with carrier clamping screws.
Of course, it is also possible to extend the wall bracket (optional). We also offer a 50mm standard extension for the Sont 20 carrier system. You connect the extension and the carrier with an adapter. We can also make special lengths of extensions, just ask.

---
Order desired gliders with hooks for curtains and curtains: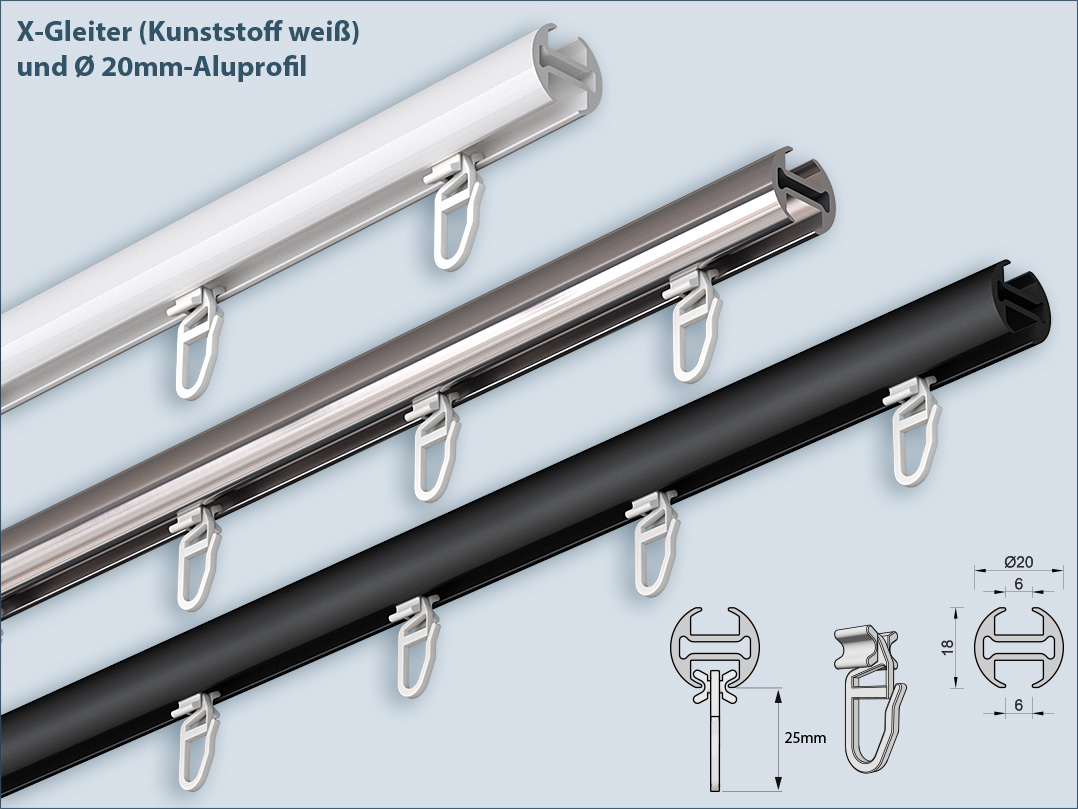 X Glider: Standard curtain gliders with pleating hooks, made entirely of plastic, color white, are inserted into the rail at the side.

---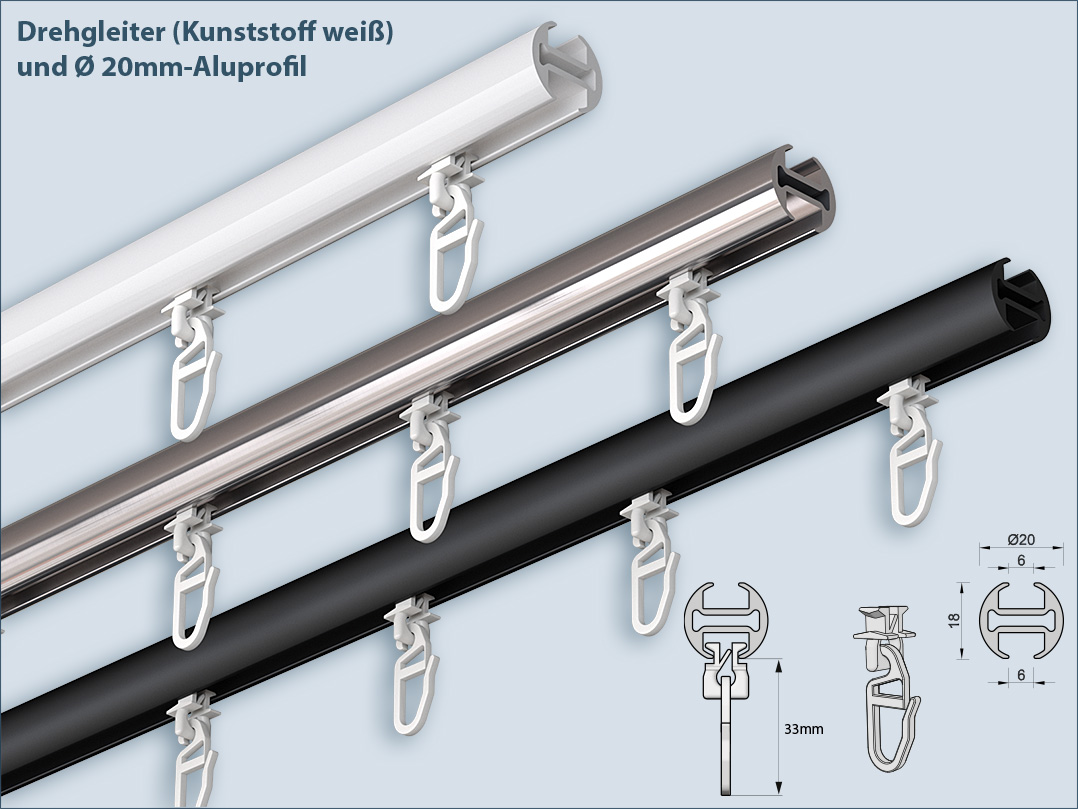 rotary glider: Comfort curtain gliders with clip-on hooks, made entirely of plastic, color white, these gliders can be screwed in or out at any point on the inner track system.

---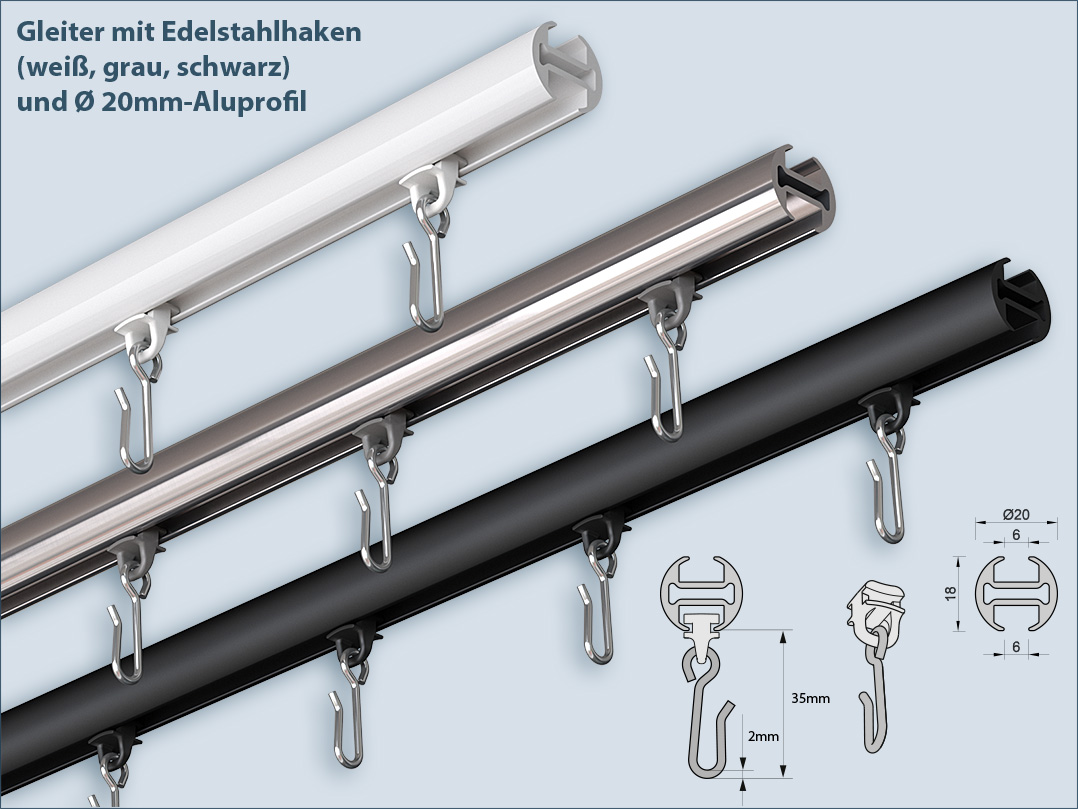 Glides with stainless steel hooks: Very stable (up to 1.5 kg/each) and at the same time very smooth-running gliders with stainless steel hooks. Especially suitable for heavy drapes and drapes, wet areas and outdoor areas, e.g. curtains for vestibules or wind protection curtains for patios or balconies.

---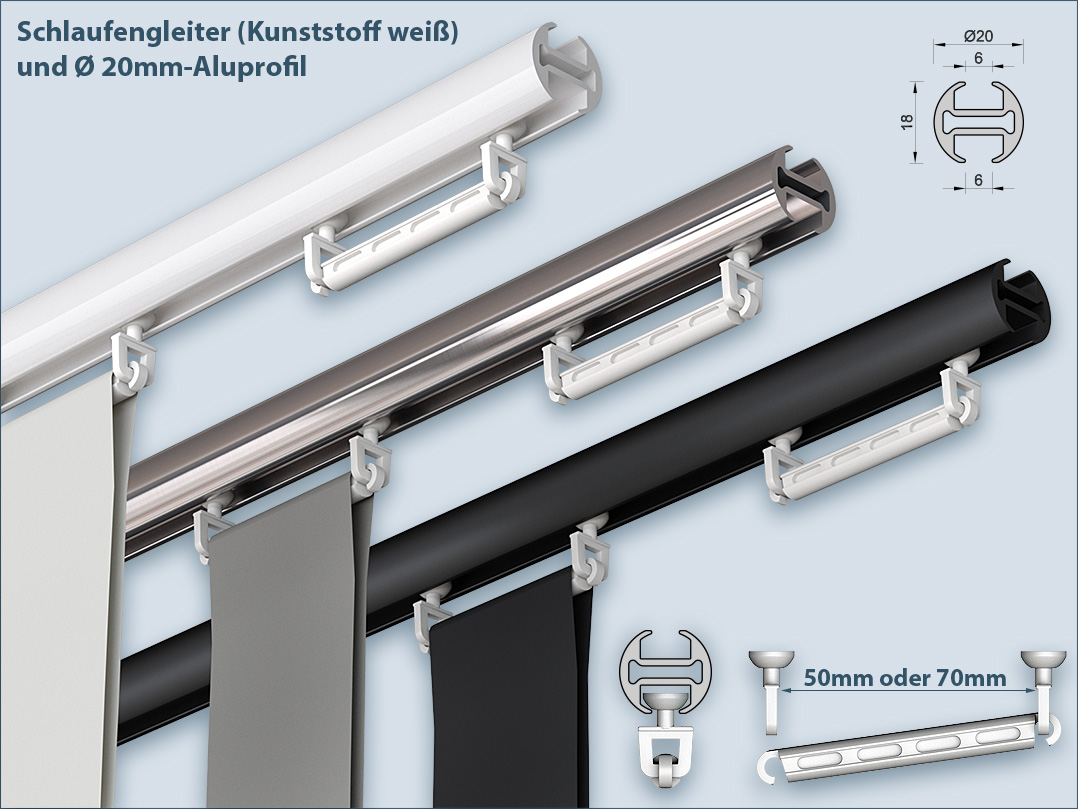 loop gliders: Sliders for loop curtains made entirely of plastic, color white. Due to its semicircular shape, the sliding element offers very good sliding properties in all of our inner rails.

---
Order any end pieces for Sont-20 2-track inner track curtain rod.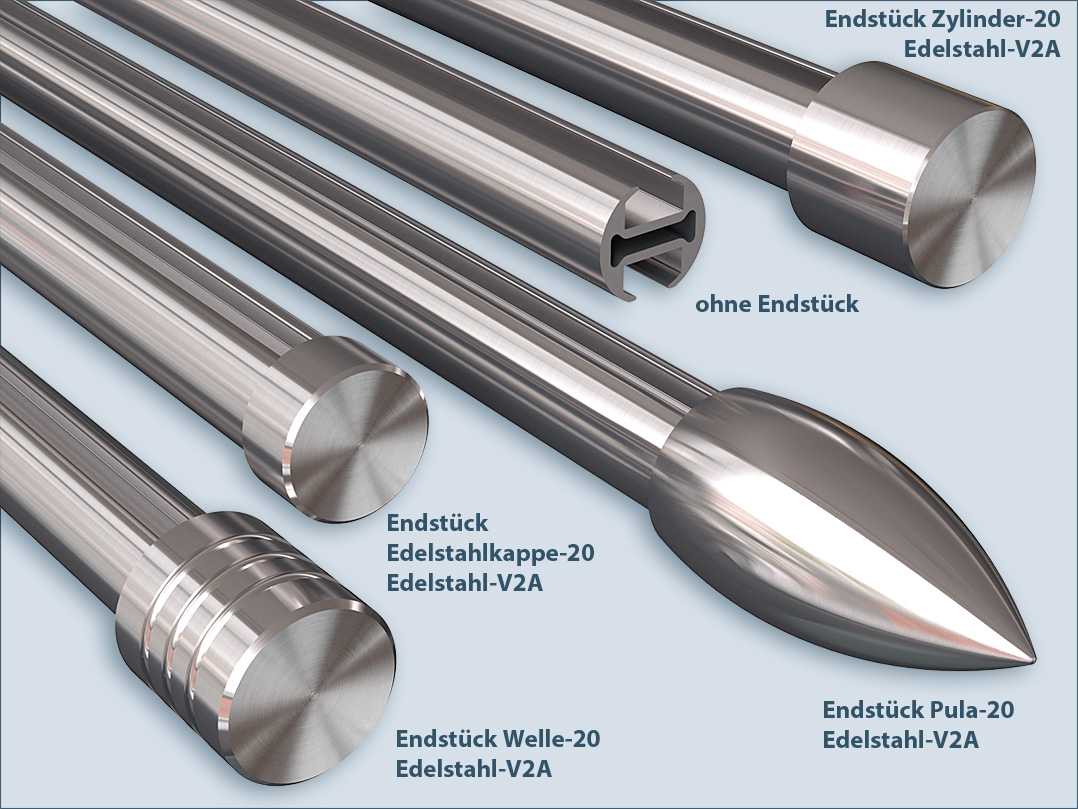 We have different end pieces for our 20mm inner races. Simply select the desired end piece in the corresponding field. You can order different end pieces for each barrel.
Features
| | |
| --- | --- |
| Designation* | Internal track curtain rod Sont-20 double track, wall mounting |
| Material | Rods: Aluminum in stainless steel look. Accessories: V2A - Stainless steel 18/10, DIN WNR 1.4301, rust-free, suitable for indoor and outdoor applications. |
| Processing | High-precision processing with CNC automatic lathes |
| Surface | Polished surface, excellent visual uniformity, grain size 2500, satin-glossy appearance |
| Mounting Type | Wall attachment with Sont-20 2-lfg. bracket and base plate. Attachment with screw-on plate or directly with Spax screw. |
| Dimensions | Profiles from 100 to 400cm (can be cut to size upon request). Profiles 400-600cm in one piece - Price on request. Inner track profile with Ø20mm. Wall distance 108/178 mm (optional with extensions) |
| End Pieces | End Cap of Choice, for Each Rail |
| Curtain Attachment | Various Sliders of Choice |
| Scope of Delivery | Complete curtain rod: 2 pcs. rod, 2 or 3 pcs. rod holders (by rod length), bracket extensions (optional), 4 pcs. end piece, sliders (optional), incl. mounting material. |
| Extensions (opt.) | Curved curtain rods - price on request. |