Description
Wall wardrobes - ceiling wardrobes base 10: attractive and space-saving.A curved coat rack, completely made of stainless steel V2A, rod diameter 10 mm, different sizes.
Execution (wall mounting or ceiling mounting): 1 piece stable solid rod, 2 pieces carrier base 10, incl. Fastening material, without hooks, without hangers.
Fits perfectly in any hallway or hallway. These wardrobes are mounted on the wall or ceiling with hanger bolts. Due to the different sizes, you can use these wall wardrobes for every room situation. You can hang up the clothes with coat hangers (not included) or coat hooks (not included).
On request, we can also offer custom-made products. Please send us an inquiry by email or fax and you will immediately receive an offer.
---
Order correct size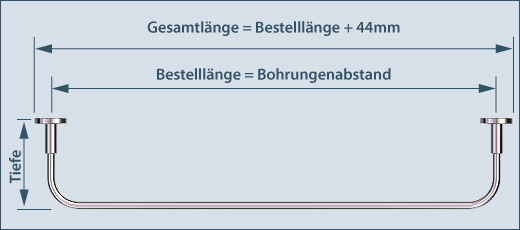 The order length of the wardrobe is the distance between the holes, the order depth is the total depth.
---
Wall coat rack Ceiling coat rack base 10 can be attached to the wall or ceiling.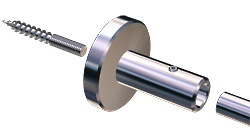 The two bases are screwed to the wall or ceiling with hanger bolts. The rod is inserted into the base and fixed with grub screws.
Base diameter = 44mm
Hole diameter = 8mm
---
Matching hooks for wardrobe base-10.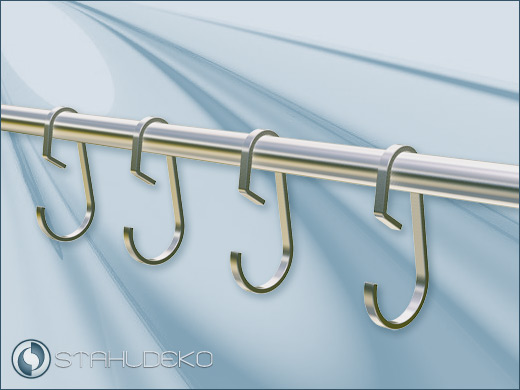 Of course you can order suitable coat hooks for 10mm rods in our online shop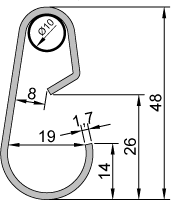 Hook for coat rack, material V2A stainless steel, very stable, bent from 1.7 x 3.2mm flat steel, ends are punched
Features
Designation*

Wall-mounted ceiling coat rack Base-10, made of stainless steel V2A

Material

V2A - stainless steel 18/10, DIN WNR 1.4301

rust-free, heat-resistant, impact-resistant

suitable for indoor and outdoor applications

extremely easy-care

Processing

High-precision processing with CNC automatic lathes

Surface

Polished surface

very good optical uniformity

Support System

Is inserted into the base

And secured with a screw

Mounting

Wall or Ceiling Mounting

1-Point Mounting with Stud Bolt

Lengths

Other lengths, sizes, shapes available on request

Accessories

Additional available: Brackets

Hooks

Tubes

Scope of Delivery

1 pc. Wardrobe incl. rod in one curved piece, 2 pcs. bases and fixing material, without hooks, without hangers