Description
Aluminum profile systems: "Direct" ceiling supports for catenary rails and room divider rails
Ceiling mounting with high load-bearing capacity for aluminum curtain rails, room divider rails and ejector rails. Also suitable for corner solutions or bay window solutions. The ceiling supports are in 1lfg. or 2-line finish available, and allow any distance from the wall. Very stable "direct" ceiling attachment is also suitable for heavy curtains and curtains. The ceiling bracket and the aluminum profile fully combine the functional advantages of the sling track and the possibilities of unlimited slinging of the curtain for corner windows or bay windows. With the basic elements aluminum rail, return, inside curve, outside curve, round arch, solutions are also available for complex room situations. The aluminum profile system with ceiling mounting and aluminum arch is also suitable for shower partitions, cabin partitions and room partitions. All components of the system are consistently matched to each other.Available in white powder-coated or matt aluminum.
"Direct" ceiling bracket Fastening system: 1-track system and 2-track system for our inner rails

"Direkt" ceiling support with the round aluminum rail with a diameter of 16mm, ideal for smaller room dividers and room dividers.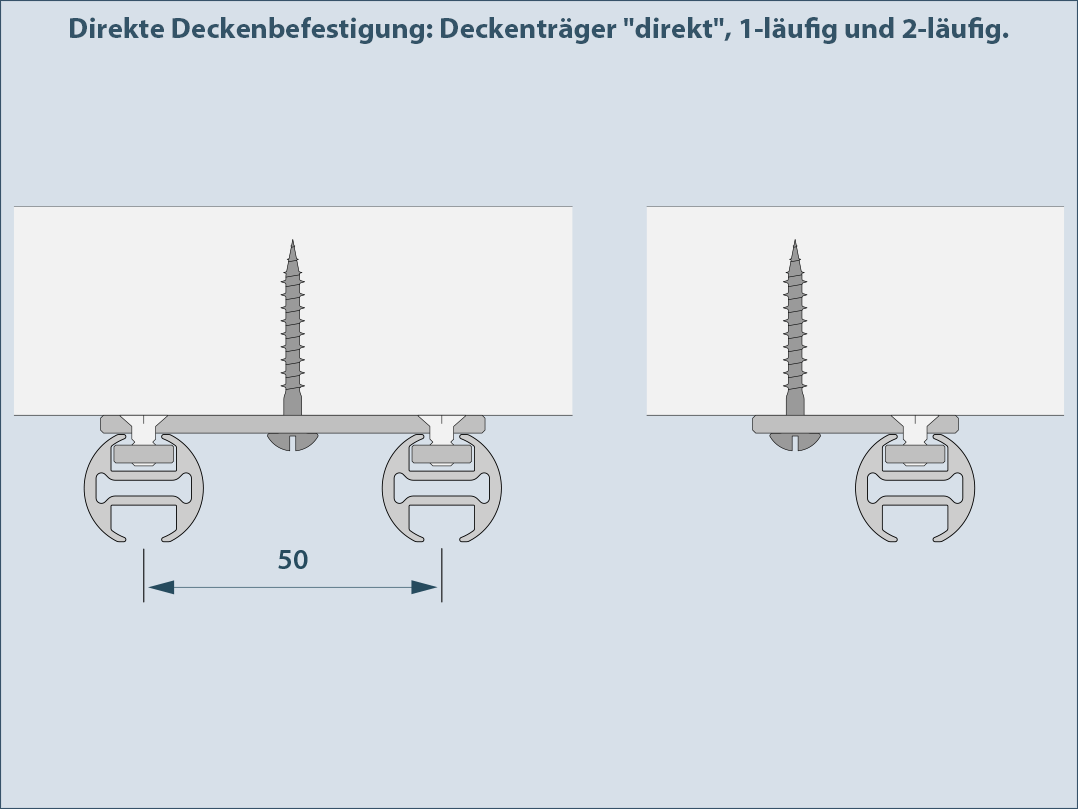 "Direct" ceiling attachment and round aluminum profile with a diameter of 20 mm, eg for room partitions, shower and bathroom partitions, changing rooms.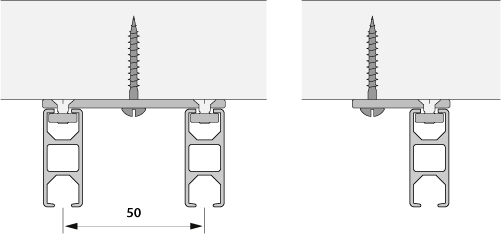 "Direct" ceiling mounting and angular room partition rail 14x35mm, for larger room partitions, room dividers, partitions, changing room systems, wind protection curtains and vestibules.
Usage examples:
1 line and 2-line "Direkt" ceiling support with aluminum room divider rail or aluminum ejector railØ20 and Ø16mm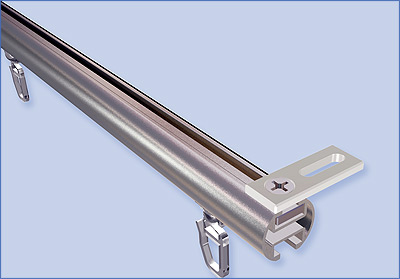 Room dividing solution: Room dividing rail Ø20mm and ceiling support "Direkt", also suitable for heavy curtains and curtains. Ideal for shower partitions in combination with an aluminum sling-through corner as an outer bend. This profile system allows the shower curtain to slide smoothly from one side across the corner to the other side.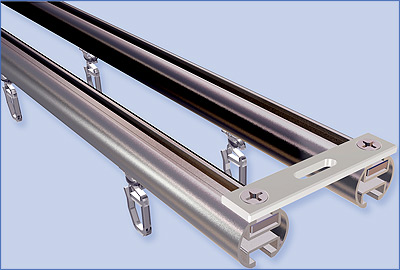 2lfg. Ceiling mounting with "Direct" ceiling support for cabin partitions: ceiling mounting of the ejector rails with a spacing of 50mm. Matching aluminum rails Ø16 or 20mm with inner track, gliders with Ü hooks, arches and end pieces allow individual assembly of sets.
Features
Designation*

Ceiling bracket "Direct", for aluminum tracks single or double track.

Material

Steel

Aluminum with the specification AlMg Si 0.5

Processing

High-precision processing

Surface

white powder-coated

Aluminum matte

Compatible

for all aluminum profiles with internal track

Dimensions

Length 35 or 65mm, running distance (2-lanes) - 50mm

Mounting

1-Point Mounting with Spax Screw

Scope of Delivery

1 pc. Ceiling bracket, 1-tier or 2-tier, incl. fixing material