Description
* If desired, enter the number in cm in the field "shorten by:". then we cut the aluminum profile to the appropriate length.
For example: if you need a profile of exactly 148cm, please select under "Length"-160cm, and in the field "Shorten by:" enter the number "12cm".
* The profile with inner run is divided in the middle from a length of 260cm. Connection adapter is included.
Room design with aluminium: angular inner track curtain rail, innovative and universal.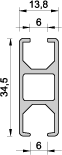 Aluminum room design by Stahldeko: The 14x35mm profile combines the brilliant appearance of the Stahldeko curtain rods with the functional advantages of the inner curtain rail. These advantages fully exploit the possibilities of the unlimited path of the curtain. With the basic elements of ceiling supports, wall brackets and end pieces, solutions are also available for complex interior design situations. Extremely stable square profile made of aluminium, which is also ideal for use in the commercial sector. If you are looking for a larger room separation solution, for example for a hospital, a doctor's office or a changing room, you can access this profile. It is fixed to the wall or to the ceiling. It is of course possible to combine wall and ceiling mounting.
We can also do this profile indifferent curved shapesoffer. Irrespective of the bend and the type of attachment, the all-round path of the curtain is always 100% guaranteed. If you need a custom-made room divider, room partition walls with curtains, changing room systems or a vestibule with a curtain on the house or a windbreak curtain on the restaurant, send us a sketch by email or fax and you will immediately receive an individual, non-binding offer. Each custom-made product is manufactured in one piece and delivered as such if possible.
Available in fixed lengths up to 600cm or made to measure.


Ceiling mounting for angular aluminum profile, e.g. for curtain partitions, room dividers and changing rooms: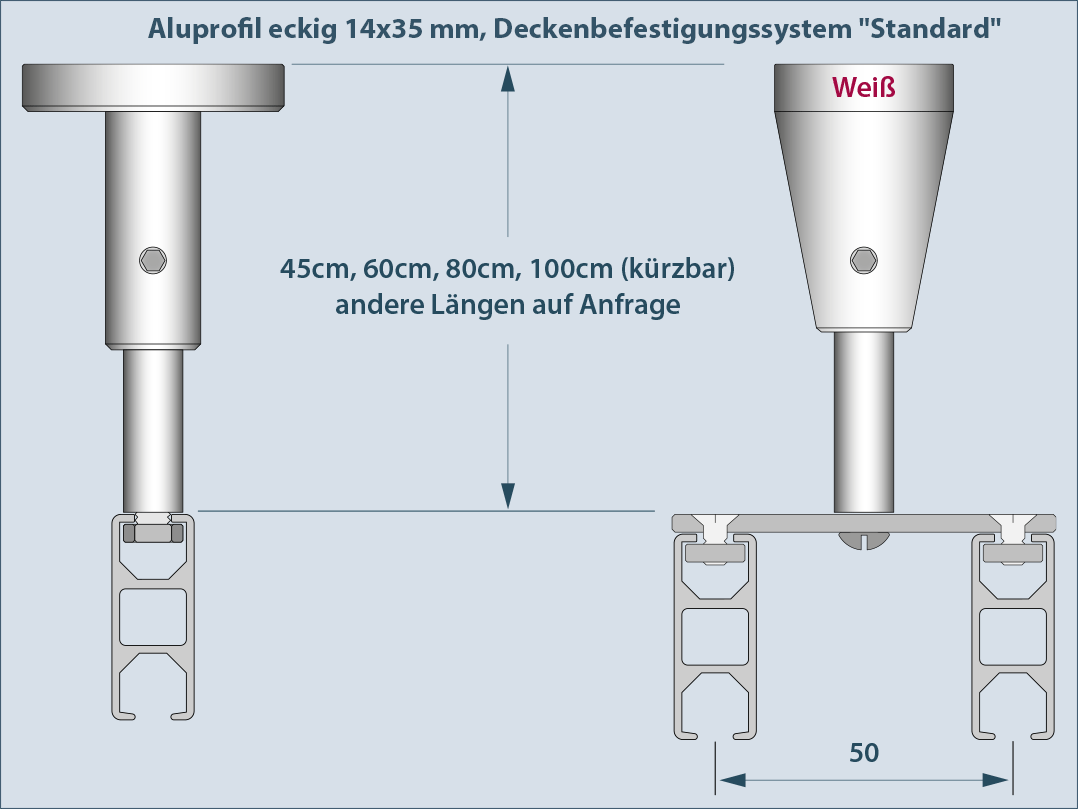 Ceiling bracket with suspension from the ceiling, standard (45cm, can be shortened) or made to measure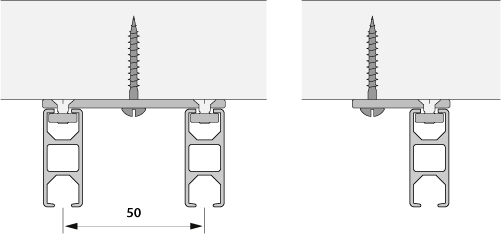 Ceiling bracket for attachment directly to the ceiling, 1-track or 2-track.

Wall bracket made of plastic, very stable, for square curtain rods with inner track 14x35mm, e.g. for curtain room dividers from wall to wall: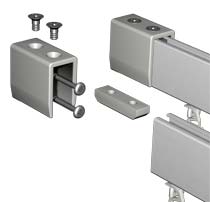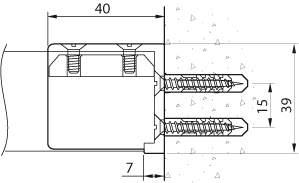 These plastic wall brackets are available in light gray or white to match the profile


Various gliders with hooks for curtains and curtains: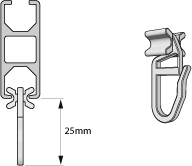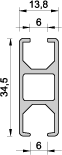 Curtain glider with pleating hook (X-glider) and square inner track curtain rail, 14x35mm, suitable for curtain and curtain decoration as well as room dividers.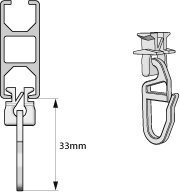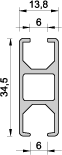 Swivel gliders and clip-on hooks for square profile made of aluminum 14x35mm, these gliders can be screwed in afterwards (can be screwed out), ie it is possible to hang up or remove the curtains and drapes at any point on the inner running curtain rail.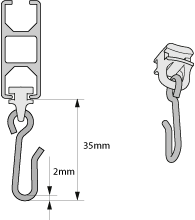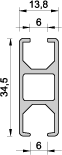 Very stable and at the same time very smooth-running gliders with hooks made of stainless steel. Particularly suitable for heavy curtains and drapes, eg curtain partition walls, curtain room dividers, outdoor areas eg curtains for a porch at the house or restaurant, or wind protection curtains for a terrace or balcony.
End cap for square profile 14x35mm: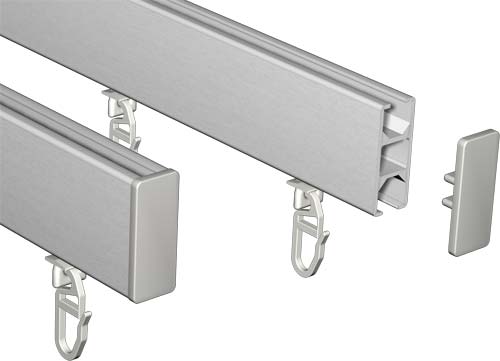 Plastic end cap, light gray or white plastic, suitable for the square aluminum profile 14x35mm
Features
Designation*

Internal curtain rod made of aluminum, square shape, 14x35mm, bendable.

Material

High-quality aluminum, anodized

Surface

white powder-coated according to RAL 9016

Aluminum matte

Compatible

windbreak inside and outside the house, restaurant, balcony, terrace

curtain rods for wind protection

room dividers

partition with curtain in hospital, clinic, office

changing rooms

Dimensions

approx. 14mm wide, approx 35mm high, see drawing

Mounting

Wall or Ceiling Mounting

Wall Mounting

Wall to Wall Mounting

Wall Mounting with Angle Bracket

Ceiling Mounting with Drop

Extras

Recommended accessory: Ceiling mounts, wall mounts, end caps, all our runners with hooks

Scope of Delivery

Inner profile in selected length, if specified, shortened, without further accessories