Description
Stahldeko bathroom items, shower curtain rods Ø 20mm made of V2A stainless steel, with rings or hooks of your choice
Straight shower curtain solution, complete set Ø 20mm made of V2A stainless steel, with the Wandlager 20 support system. Ideal solution for shower partitions or bathtub partitions on one side. Shower curtains attach directly to the rod with stainless steel rings or curtain hooks or, in the case of the curtain, with loops or punched grommets.
You order a complete curtain rod for shower curtain consisting of:
1 pc. tube Ø 20mm made of stainless steel, the stylish and silky matt look is absolutely suitable for our wall brackets made of V2A stainless steel.
2 pcs. Wandlager-20, material is solid stainless steel DIN WNR 1.4301 satin finished, incl. fastening material.
Desired number of shower curtain rings or stainless steel hooks, we recommend 1 piece curtain ring or hook per 15 cm shower curtain width.
*Custom made products on request, except straight shower screens, we also bend all our rods in any other shape, made absolutely according to your needs and space situation.
---
Order correct shower curtain bracket length.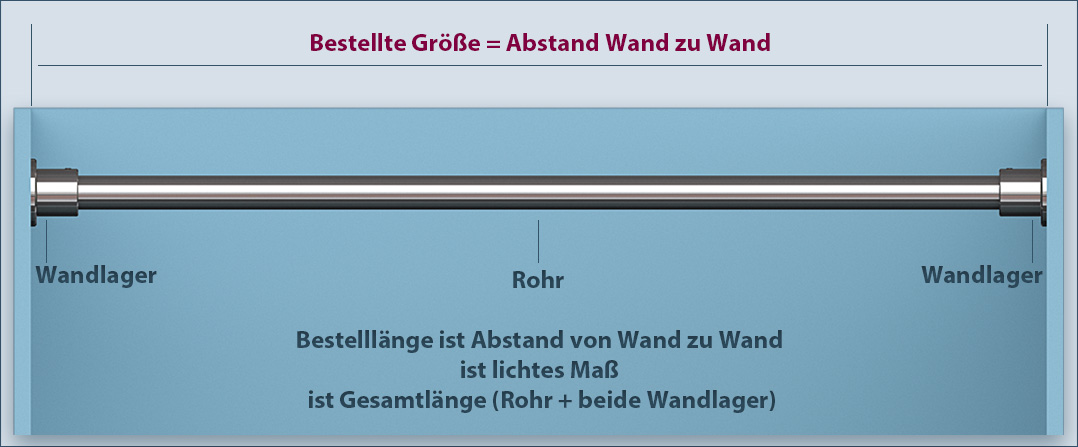 The order length of the shower curtain holder is the clear dimension = total length including both wall brackets = distance from wall to wall.
*If desired, please enter the number in cm in the "exact distance from wall to wall (cm):" field. then we will cut the tube to the right length for you. For example: if you need the shower rod of exactly 177cm, please select 180cm under "Size", and in the field "exact distance from wall to wall (cm):" write the number "177cm". Sections are not sent.
---
Mounting system Wandlager-20: Fasten rod with shower curtain from wall to wall.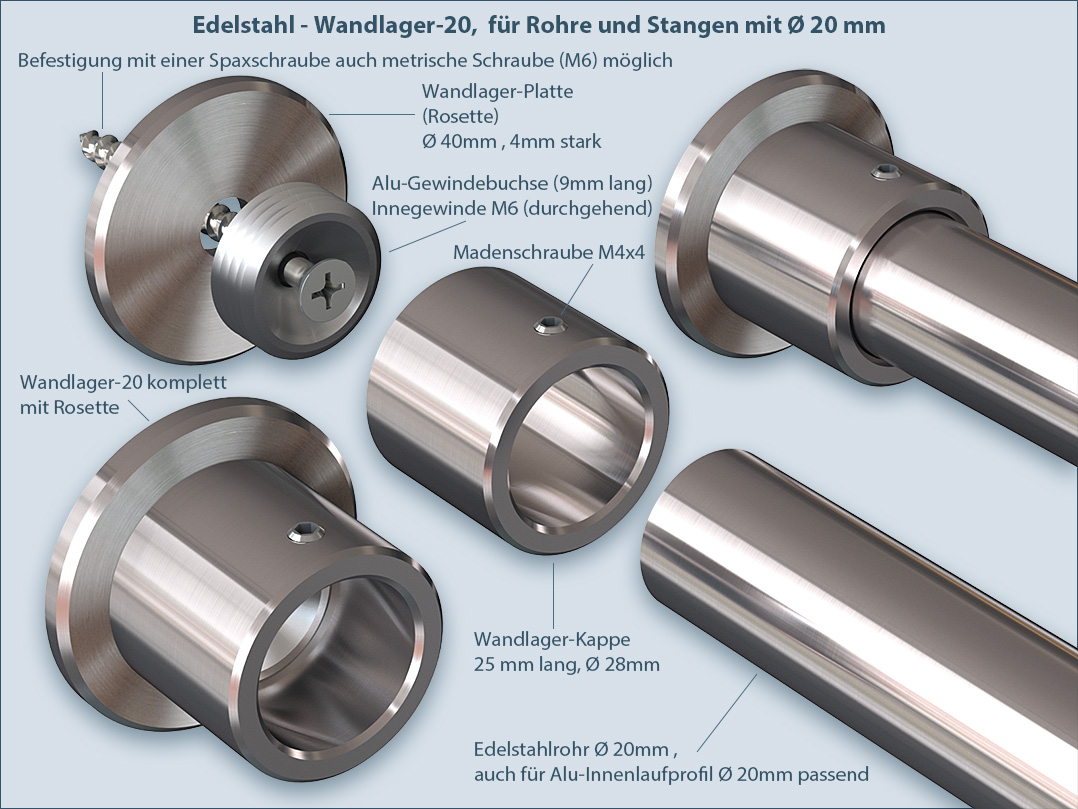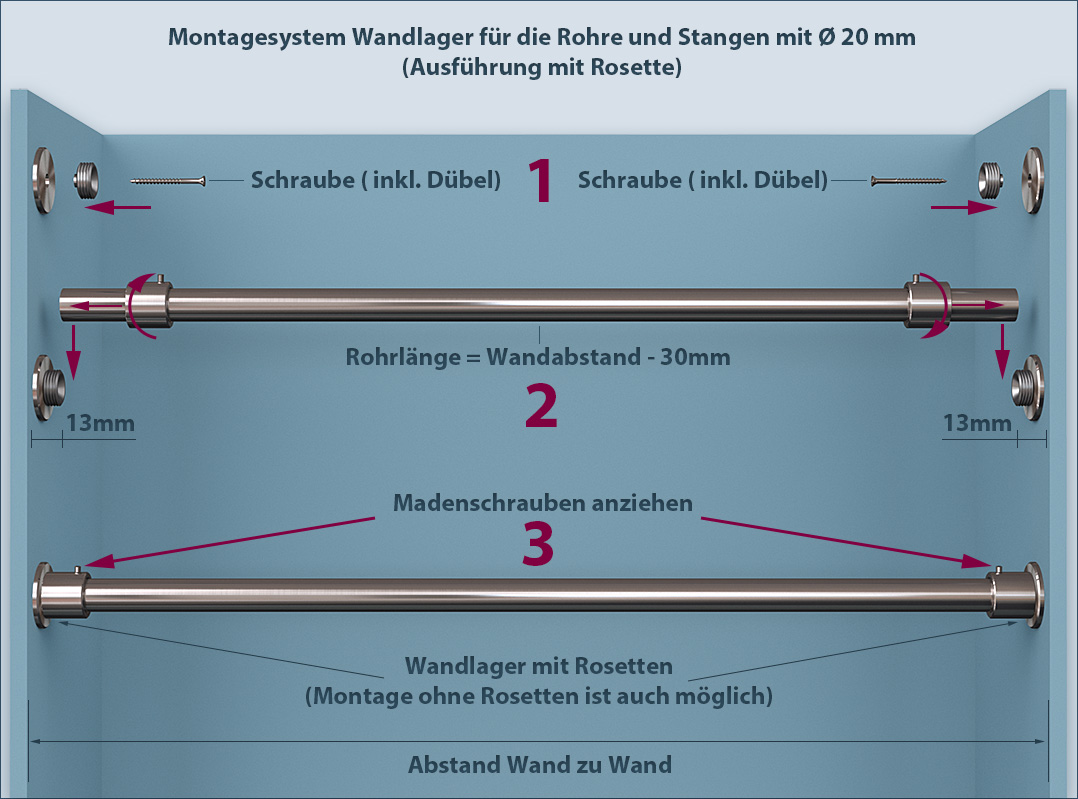 With this wall bracket bracket, you can easily decorate the shower curtain on the floor, then mount the completely decorated curtain rod on the wall. First fasten the wall bearing plates and threaded bushes to the wall with Spax screws. Push the tube together with the wall bearing caps onto the threaded bush. Screw the caps onto the threaded bushings. Lock the rod with grub screw.
---
Also order shower curtain rings made of stainless steel.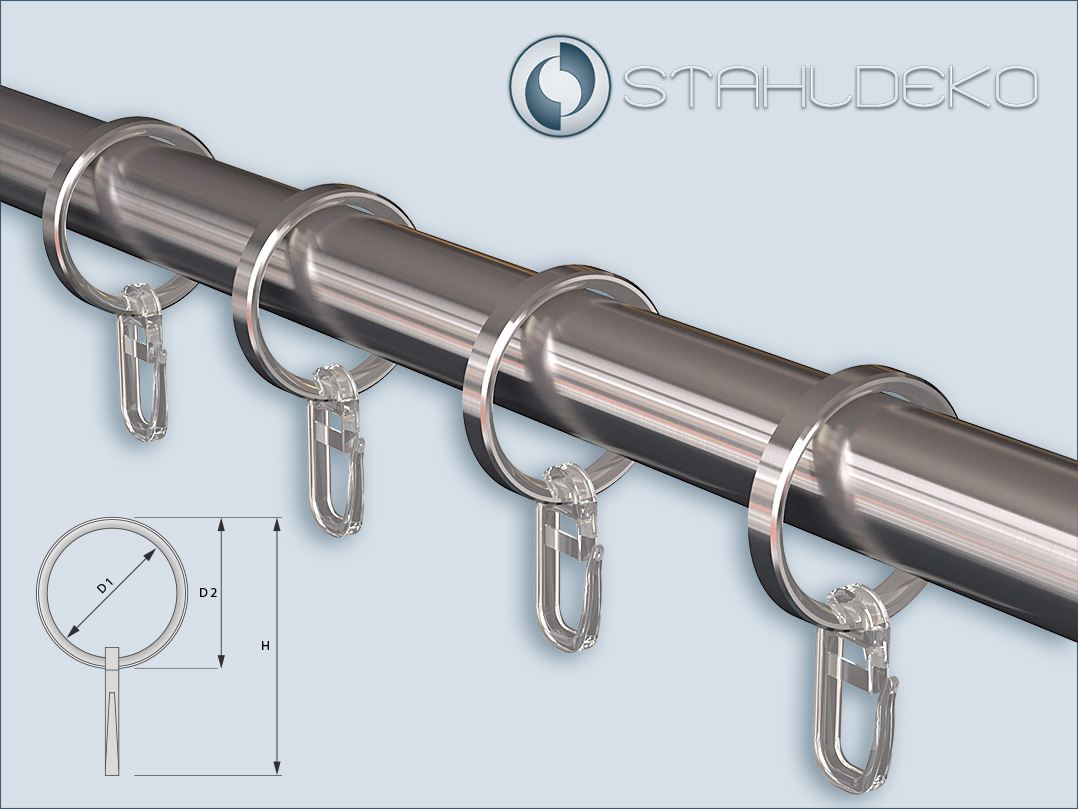 You can use our rings to attach curtains to a shower curtain holder with a round tube. These curtain rings are made of stainless steel with a plastic insert for quiet sliding of the shower curtains. All rings are supplied with clip-on hooks (folding hooks) made of plastic (transparent).
Please refer to the drawing for the dimensions:
D1 = 30mm
D2 = 37mm
H = 62mm
---
Hook S-shape made of stainless steel for shower curtains and shower curtain rods with a diameter of 20mm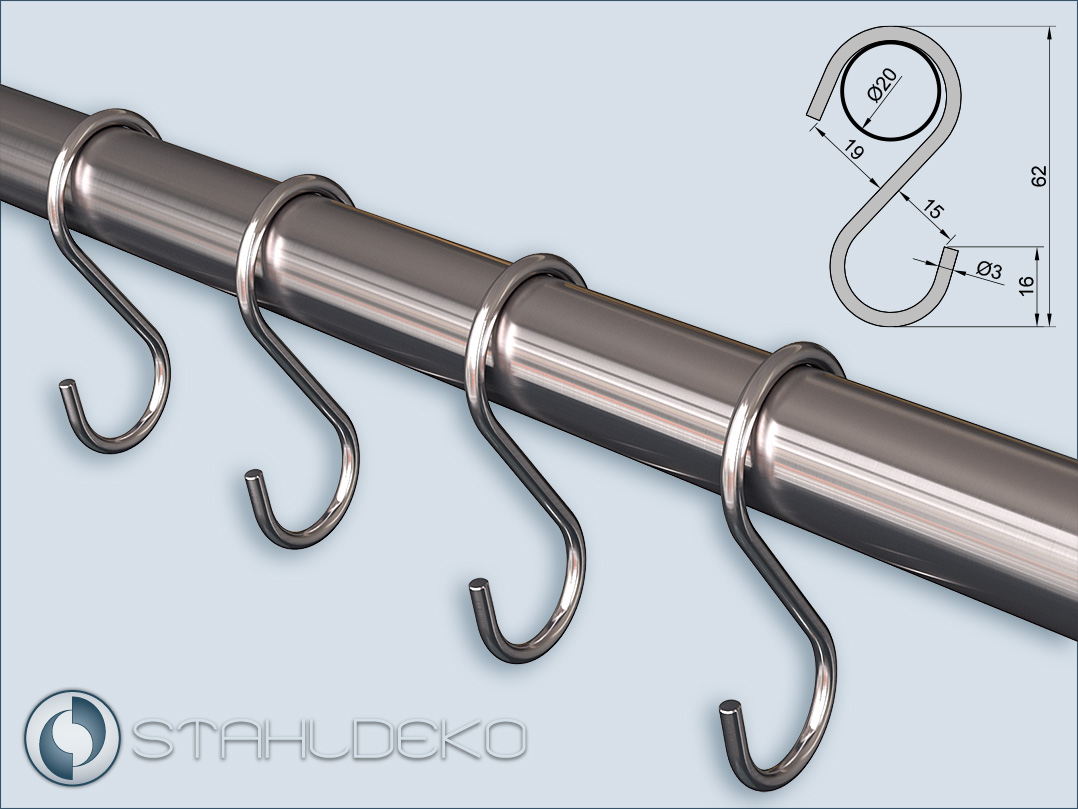 Hook S-shape made of V2A stainless steel, very stable and robust, but at the same time very smooth-running, bent from 3mm stainless steel wire, ends are punched. For use in the bathroom area as a hook for shower curtains. Easy attachment and detachment to 20mm rods by "clamp system with 19mm opening"
Please refer to the drawing for the dimensions.
---
Features
Designation

Rod for shower curtain

with stainless steel rod Ø 20mm

with stainless steel rings and pleating hooks

straight shape

for shower partition and bathtub partition

Material

V2A - stainless steel 18/10, DIN WNR 1.4301

rust-free, heat-resistant, impact-resistant

suitable for indoor and outdoor applications

extremely easy-care

Processing

High-precision processing with CNC automatic lathes

Surface

Polished surface

very good optical uniformity

Grain size 2500

Shiny brushed appearance

Compatible

for shower partitions and bathtub partitions

Shower Curtains (Attachment)

incl. stainless steel rings with hooks for shower curtain. Quantity= 1 piece per 15cm + 2 pieces.

Support System

Rod bracket wall mount-20, V2A stainless steel

End Pieces

Wall bracket, also as a shower curtain rod bracket

Mounting

Wall Mounting

1-Point Mounting with Spax Screw

Wall to Wall Mounting

Lengths

100 cm

140 cm

180 cm

220 cm

Other lengths, sizes, shapes available on request

Accessories

Additional available: Brackets

Rings

Hooks

End pieces

Joints

Ceiling mounts