Description
Cloakroom rails Primo 28 - simple rail for mounting perpendicular to the wall.
Cloakroom rod, completely made of stainless steel V2A, tube diameter 28mm, rod end closed with end piece cylinder 28, different lengths (can be shortened).
Execution (attachment to the wall): 1 pc. extremely stable wall bearing especially for wardrobe rods, wall bearing plate has a contact surface of 70 mm diameter, incl. Fastening material, without coat hooks, without coat hangers.
These rods are perfect to use as a coat rack. These bars are mounted with stainless steel screws. Due to the different lengths, you can use the cloakroom rail for every hallway and corridor. You can hang up the clothes with hangers (not included) or coat hooks (not included).
---
Order rod of correct length



The order length of the wardrobe rail is the total length.
* If desired, enter the number in cm in the "Shorten by:" field. then we cut the pole to the appropriate length.
For example: if you need the rod of exactly 56cm, please select 60cm under "Length", and in the field "Shorten by:" enter the number "4cm"..
---
Assembly of the wardrobe rails.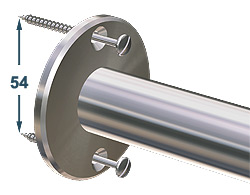 The bar is mounted perpendicular to the wall with two stainless steel screws.
Wall Plate Diameter = 70mm
Hole spacing = 54mm
---
Matching hooks for coat rail Primo-28.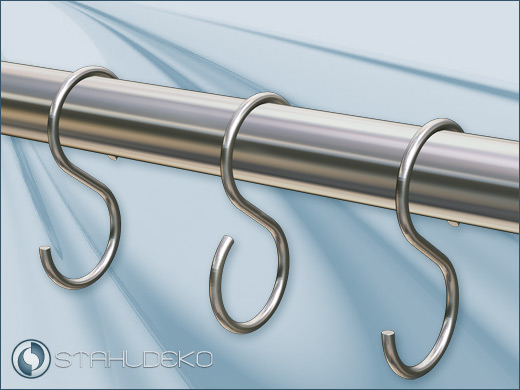 Of course you can order matching coat hooks in our shop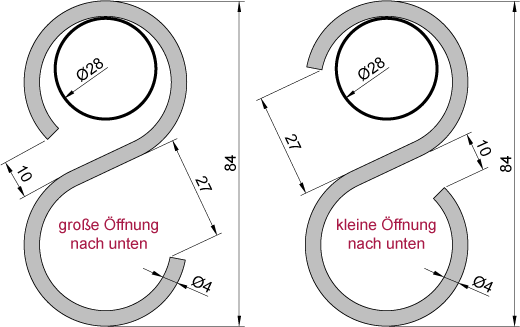 the hooks are made of sturdy stainless steel wire with a diameter of 4mm
Features
Designation*

Cloakroom rail Primo-28, up to 60cm in length

Material

V2A - stainless steel 18/10, DIN WNR 1.4301

rust-free, heat-resistant, impact-resistant

suitable for indoor and outdoor applications

extremely easy-care

Processing

High-precision processing with CNC automatic lathes

Surface

Polished surface

very good optical uniformity

Support System

very stable wall bracket for wardrobe rods, support surface 70mm

End Pieces

End Cap Cylinder-28

Mounting

2-Point Mounting with Stainless Steel Screws

Lengths

Other lengths, sizes, shapes available on request

Accessories

Additional available: Brackets

Hooks

End pieces

Tubes

Wall brackets

Scope of Delivery

1 pc. Wardrobe rod incl. wall mount, rod, end piece and fixing material, without hooks, without hangers