Description
Exclusive panel curtain technology, aluminum white powder-coatedWith our panel carriers, you can attach the panel curtains to any inner rail system without any problems. You can also use the panel carriers in existing curtain rails or curtain rails without dismantling the rails. Panels are made from extruded aluminum and have a full length Velcro surface. The sliding curtains are fastened very quickly and easily to this Velcro strip with an integrated loop tape. Of course, panel curtains can be removed just as quickly. The curtains are weighed down by an aluminum weighting profile for the lower curtain hem. The panels and the weight profile can be shortened, making them suitable for any panel curtain width.
The panel clips are inserted at any point on the rail and the panels are clipped in. If desired, the catches can be attached to the panel carriers, so you can implement a panel curtain system for operation with a sling rod. All panel clips have an eyelet for attaching a slingshot.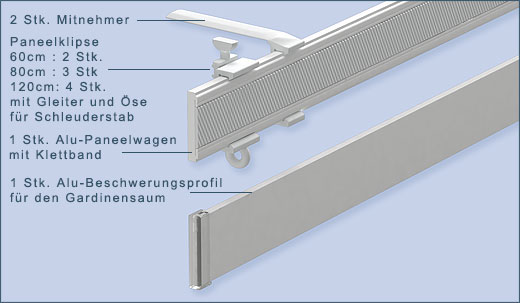 Panel carrier assembly on a curtain rail.

that's how it's done: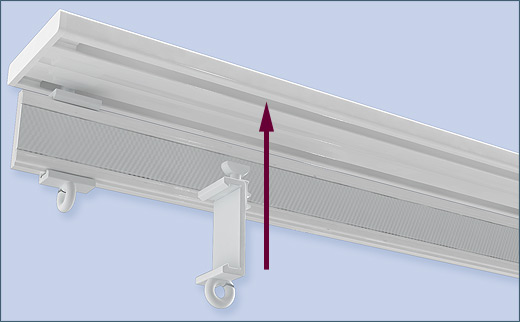 1. Insert the panel clips into the curtain track run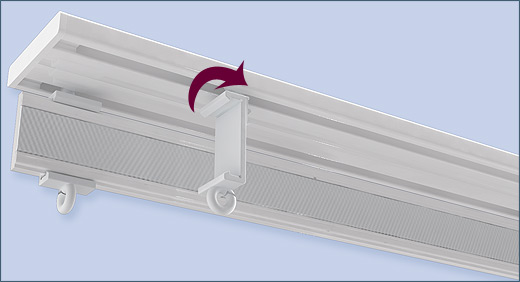 2. Turn the panel clips 90° in the curtain rail run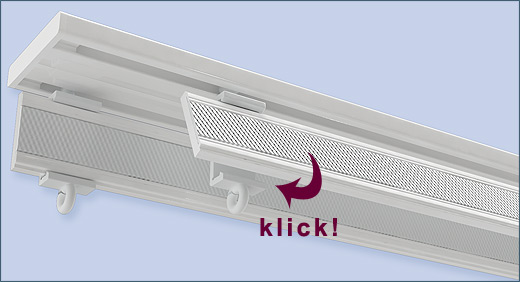 3. the Panel end clips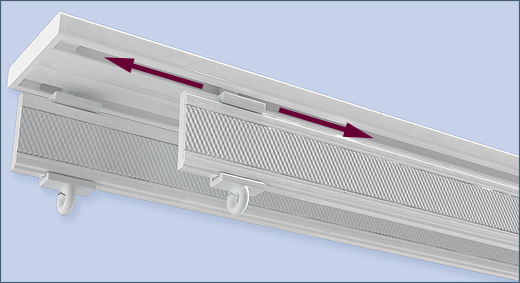 4. Done! Now the panel carrier is ready for attaching the sliding curtain

Driver for panel trolley(2 pieces included).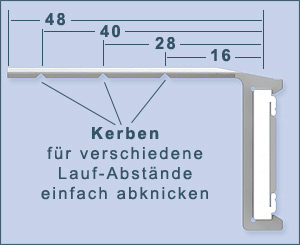 By attaching the drivers to the panel carriage, it is possible to realize the sliding curtain system in such a way that you can move all the panel curtains from one side, for example with a sling rod. Our carrier is universal, ie you can individually adjust the carrier length for each running distance by bending the carrier surface. There are three notches for this.
Panel curtain system: Examples of decoration of panel carriers on curtain rails.





Sliding curtain system for 2-track curtain rails: panel carriers arranged in parallel, pull to the left or right. Or staggered panel curtains, all panel carriers can be pulled to the left or right to save space.





Panel curtains for 3-track curtain rails: symmetrical and asymmetrical arrangement of the panel carriers.

Features
| | |
| --- | --- |
| Designation* | Aluminum panel bracket 60, 80, or 120 cm wide, complete with accessories |
| Material | Aluminum with the specification AlMg Si 0.5 |
| Processing | Extruded aluminum profile |
| Surface | white powder-coated |
| Compatible | all our aluminum inner track systems |
| Dimensions | 60, 80, 120 cm wide, can be cut to any size |
| Mounting | In the First Rail, Second Rail or Both Rails |
| Extras | Recommended accessories: Panel curtains, flat curtains, curtain tracks, all our track systems |